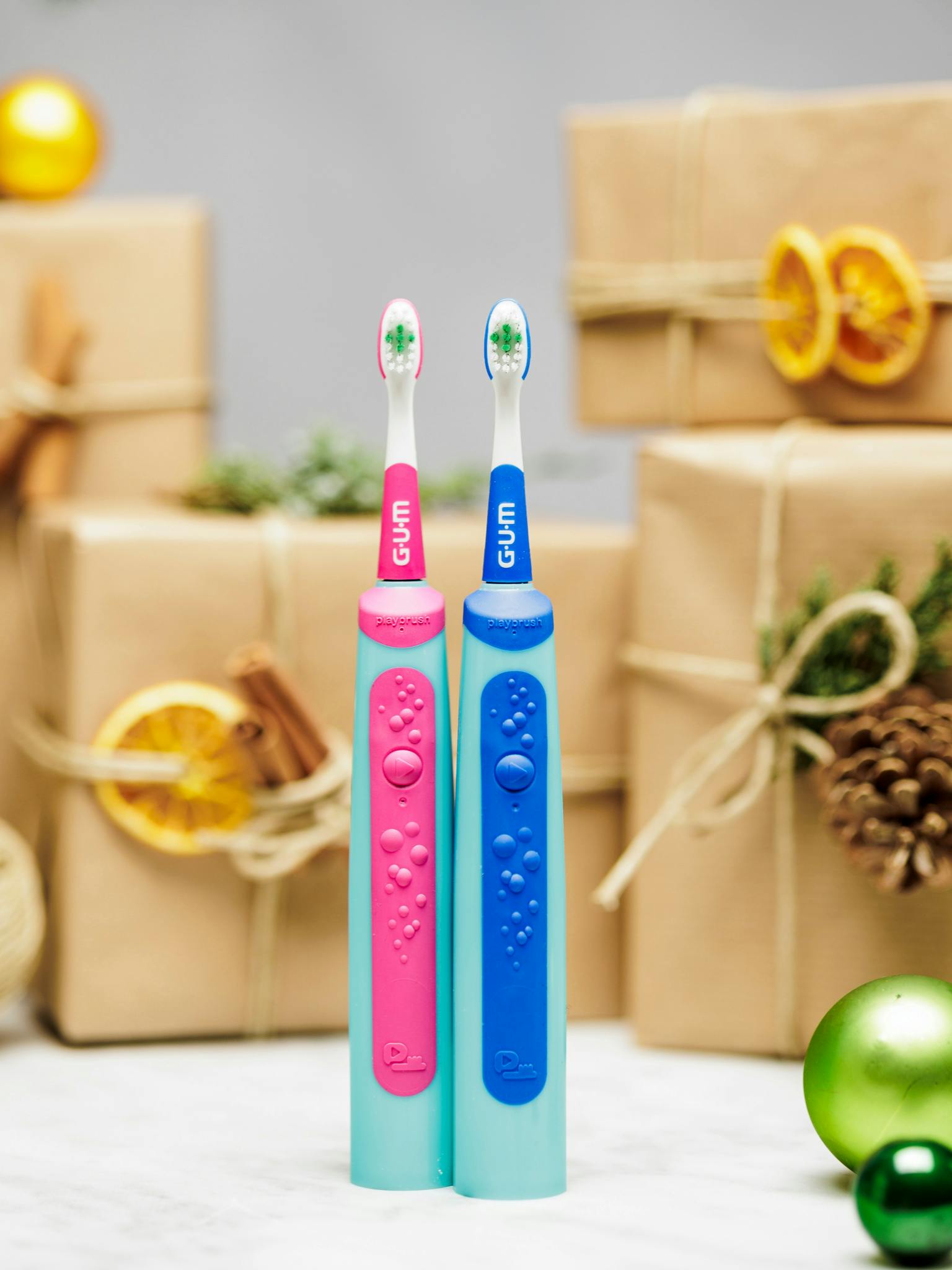 The smart sonic toothbrush connects via Bluetooth to the GUM Playbrush app and provides playful support for children to learn the proper brushing routine.
Our starter sets compared
All-round carefree set

Motivational set

Smart toothbrush

Price: £29.99 | save £10.00

Price: £29.99 | save £15.00

Brushing coach

Toothbrushing games

13 games incl. 2x multiplayer

13 games incl. 2x multiplayer

Evaluations

Toothbrushing statistics & email report

Toothbrushing statistics & email report

Brush heads

Replacement brush heads delivered automatically, 6 brush heads per year.
Unit price £2.50 | Save £4.99

Replacement brush heads available separately, 2 brush heads as a one-time purchase.
Unit price £7.49

Shipping
Ordering & testing - here's how it works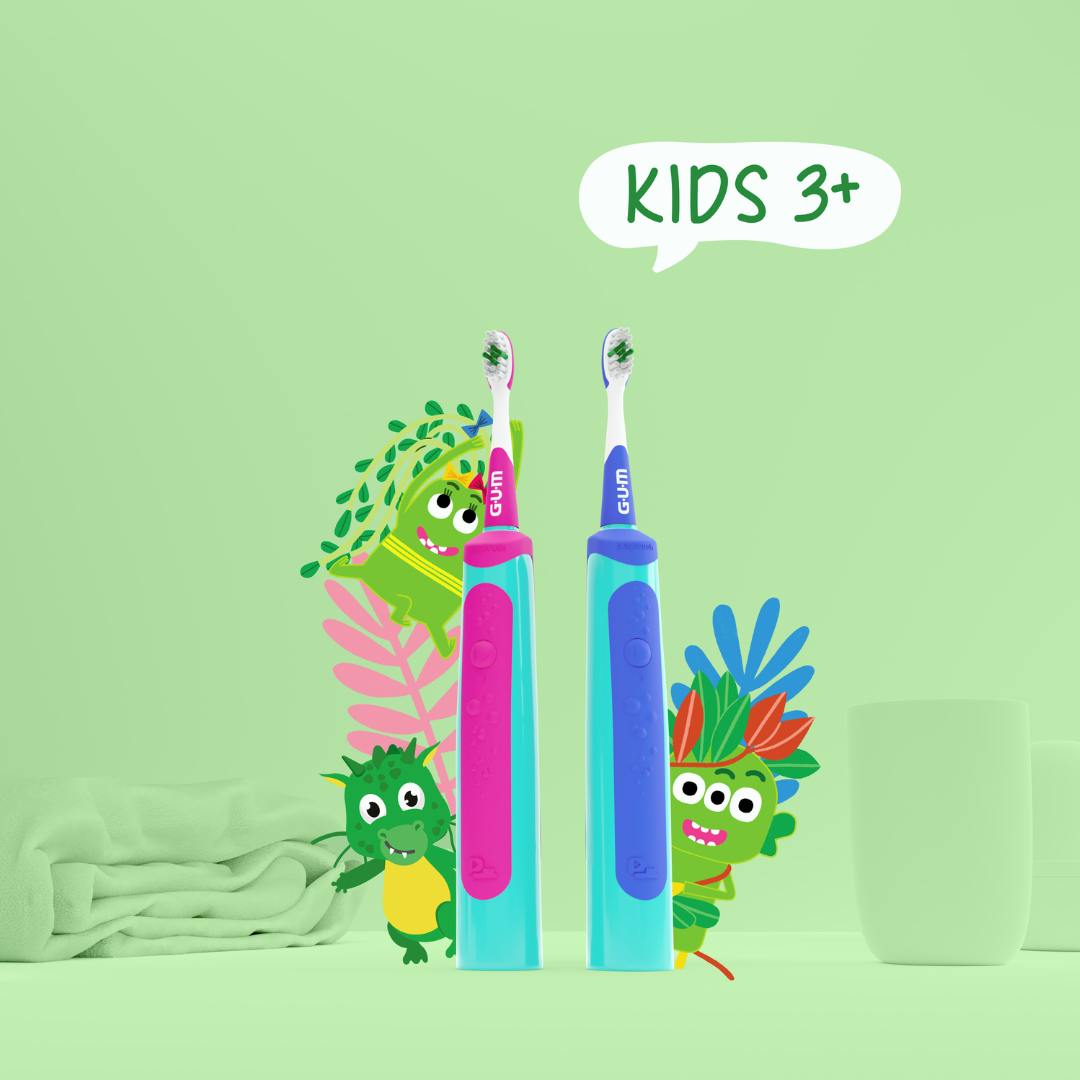 Innovative sonic toothbrush
With over 17,000 movements per minute, 2 brushing modes, a pressure sensor, and speed control, GUM Playbrush provides effective yet gentle cleaning for children's teeth. It's the perfect toothbrush to effortlessly learn proper oral hygiene. Save £10 on the recommended retail price (RRP) with our convenient sets.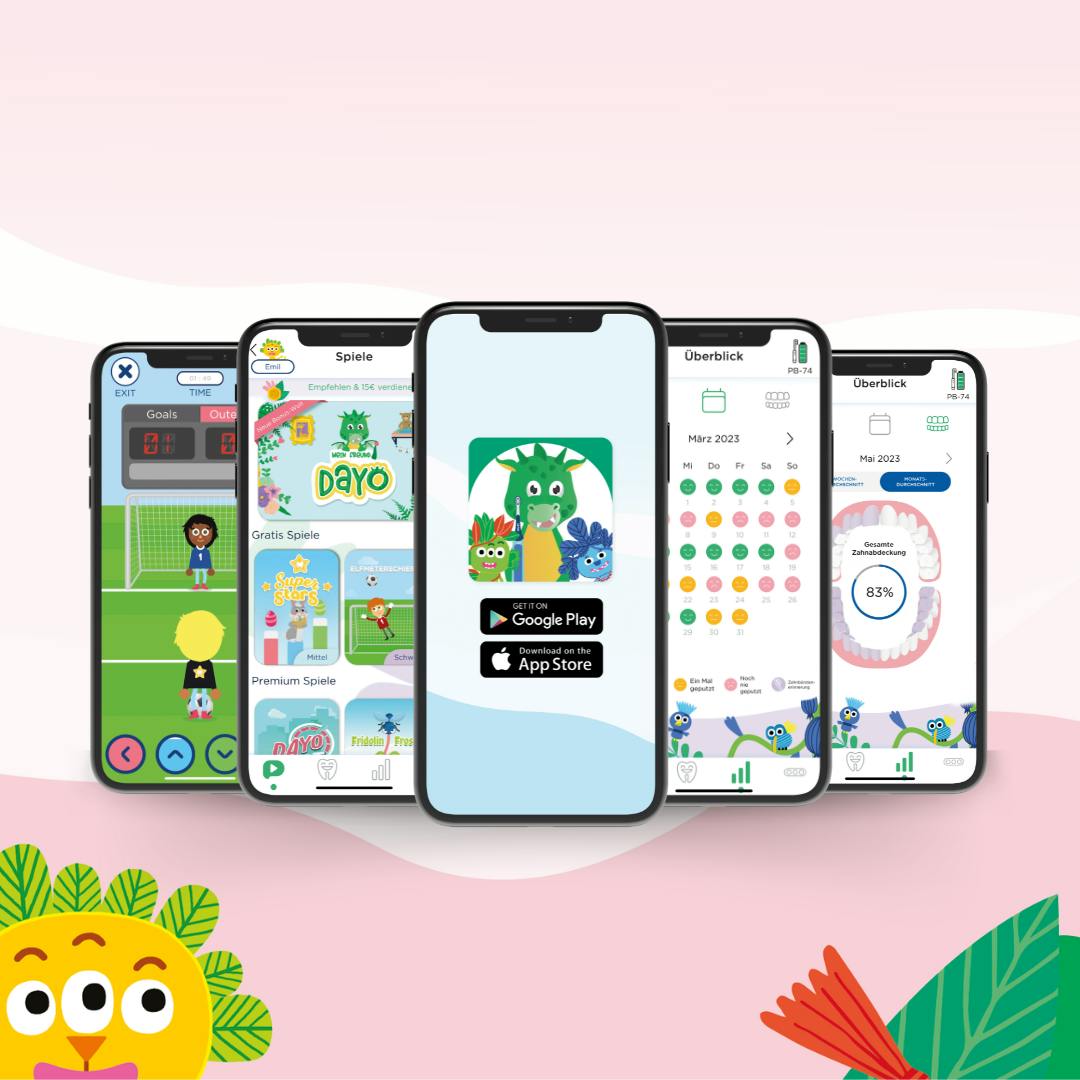 Test first, pay later
In the free basic version of the GUM Playbrush app, you'll find 4 toothbrushing games and an interactive brushing coach. For unlimited motivation, upgrade to the Premium version and unlock 9 additional exciting games (including multiplayer) while parents get reports with detailed brushing statistics on their toothbrushing heroes. Test the Premium app for 30 days, free and with no obligations, and decide later if you want to continue your annual subscription (more details in the FAQs below).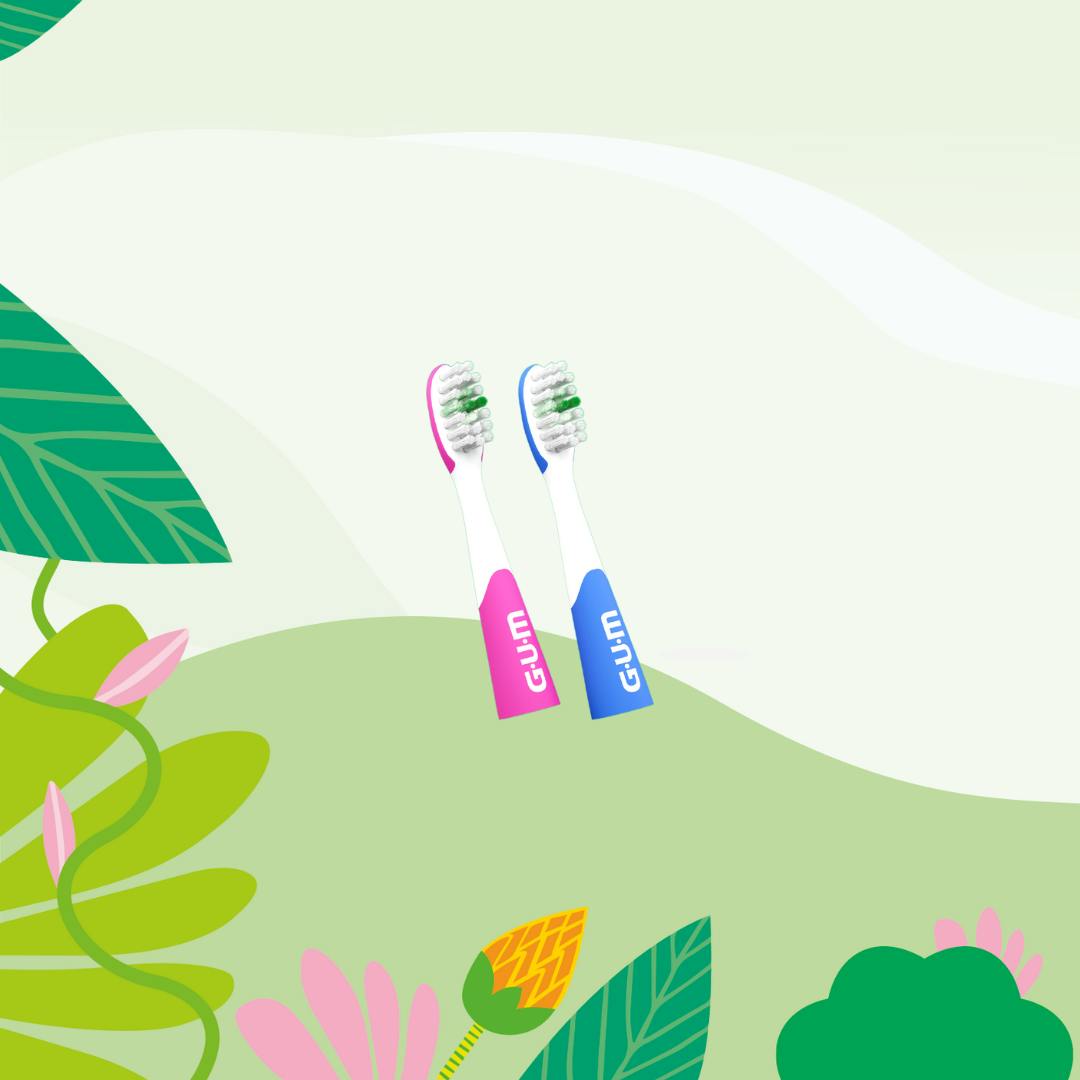 Convenient & affordable
For those who choose the all-round carefree set, there are even more benefits to enjoy. After the free trial period, in addition to Premium app access, you will automatically receive a year's supply of 6 replacement brush heads delivered to your doorstep. This ensures that you can change the brush head at the interval recommended by dentists without having to worry about restocking. The best part is that compared to individual purchases, you save £4.99 per brush head. And remember, you have full control as the subscription can be canceled at any time.
Taking dental care to the next level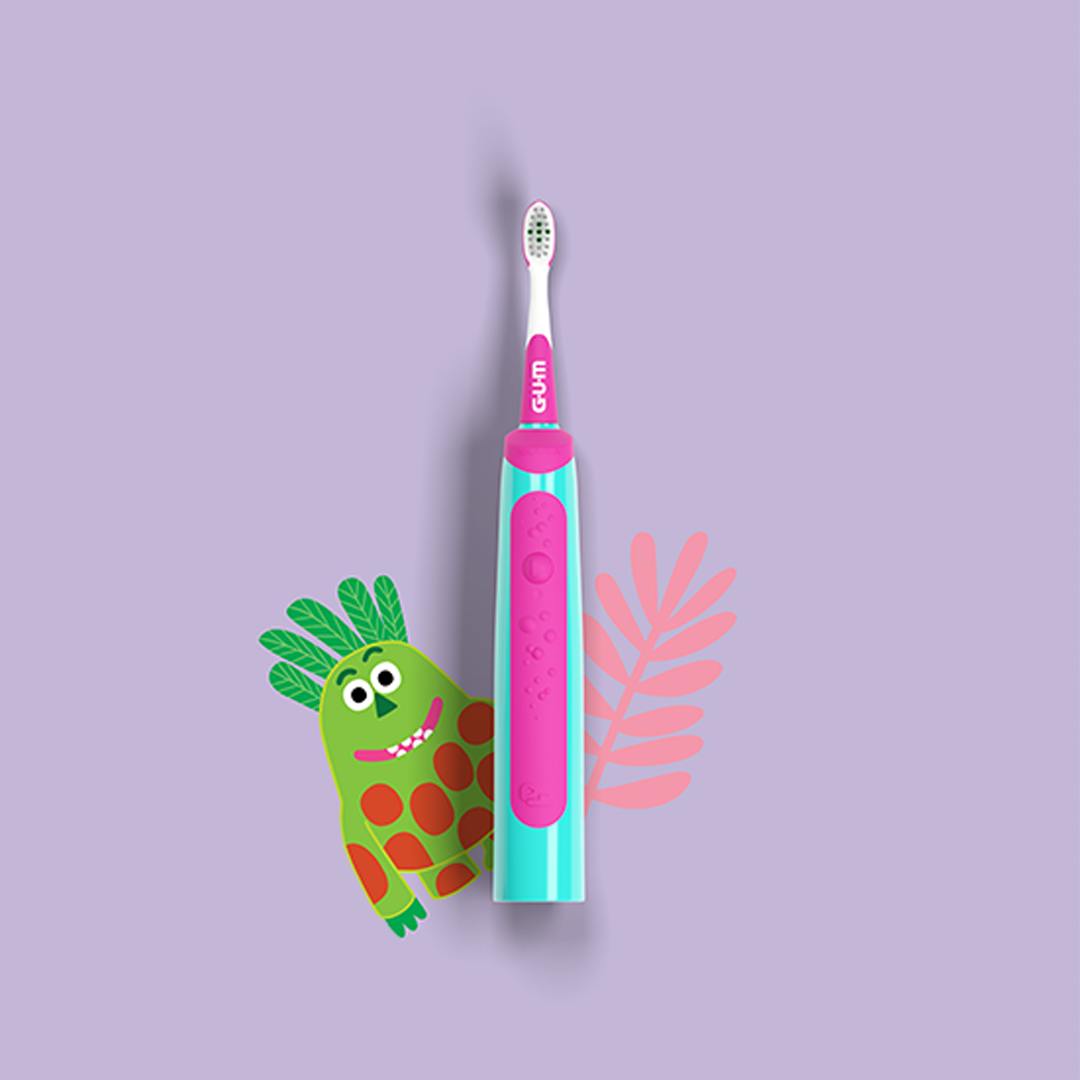 Powerful cleaning
Optimal cleaning of children's teeth with 17,000 movements per minute. Equipped with 2 brushing modes (controllable via the app), the cleaning performance can be easily adjusted to meet your kid's needs.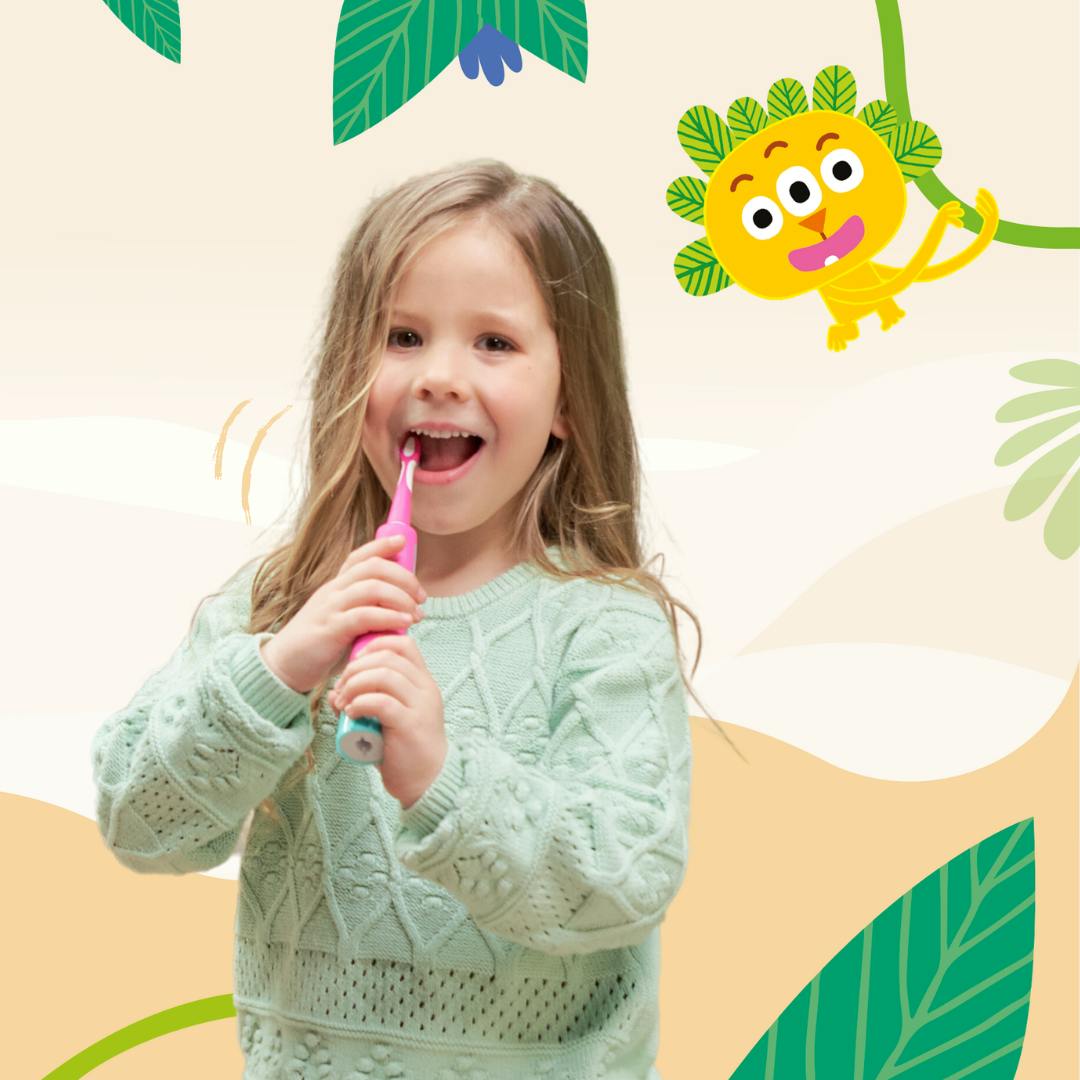 Intuitive light and vibration feedback
The pressure sensor and speed control help optimize daily oral hygiene, even when using the toothbrush without the app.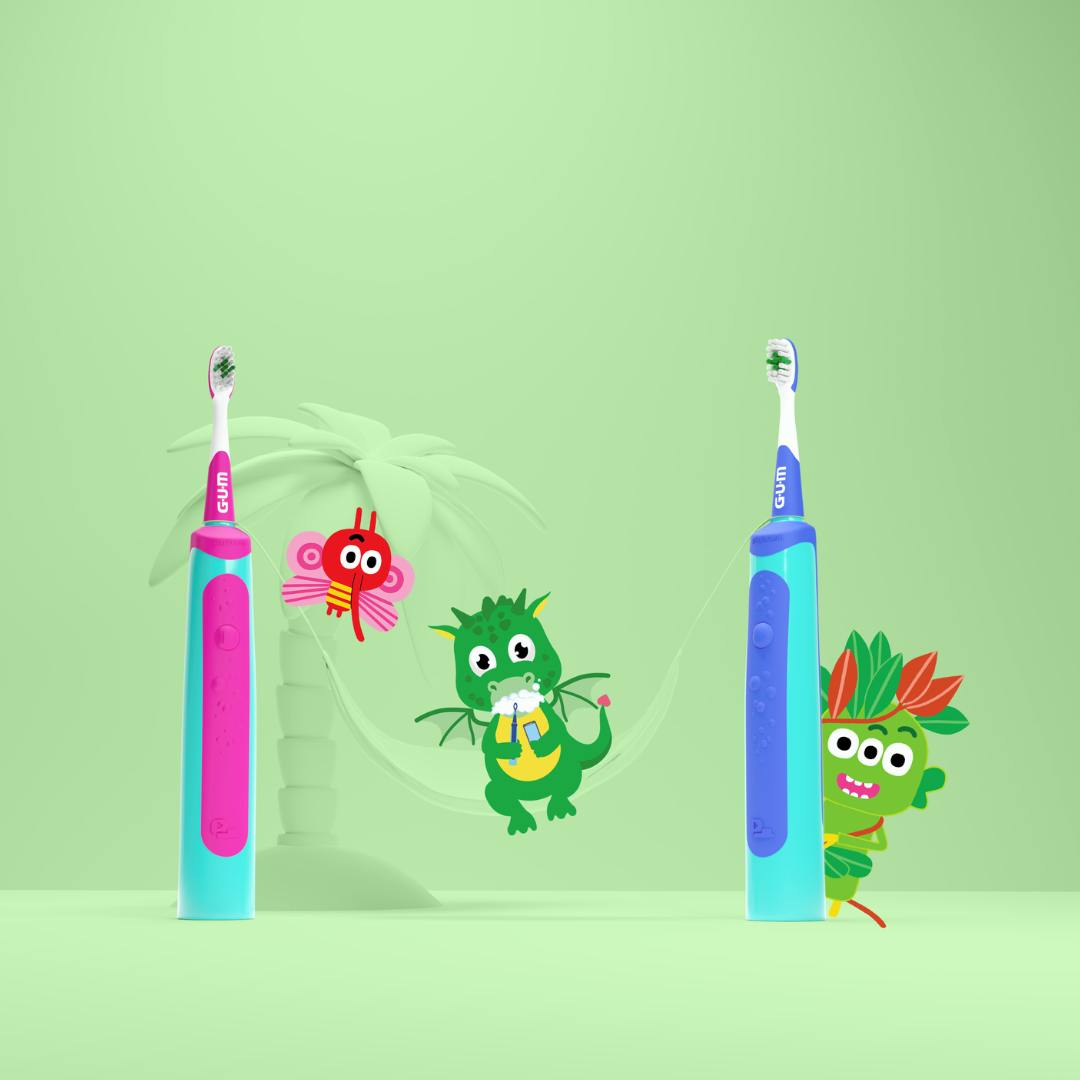 Long battery life
The GUM Playbrush KIDS 3+ is an electric sonic toothbrush made in Europe with a long-lasting power battery that can last up to 8 weeks. It is recommended for children aged 3 years and older. It is available in popular colours: pink and blue.
Our brush heads
Back to top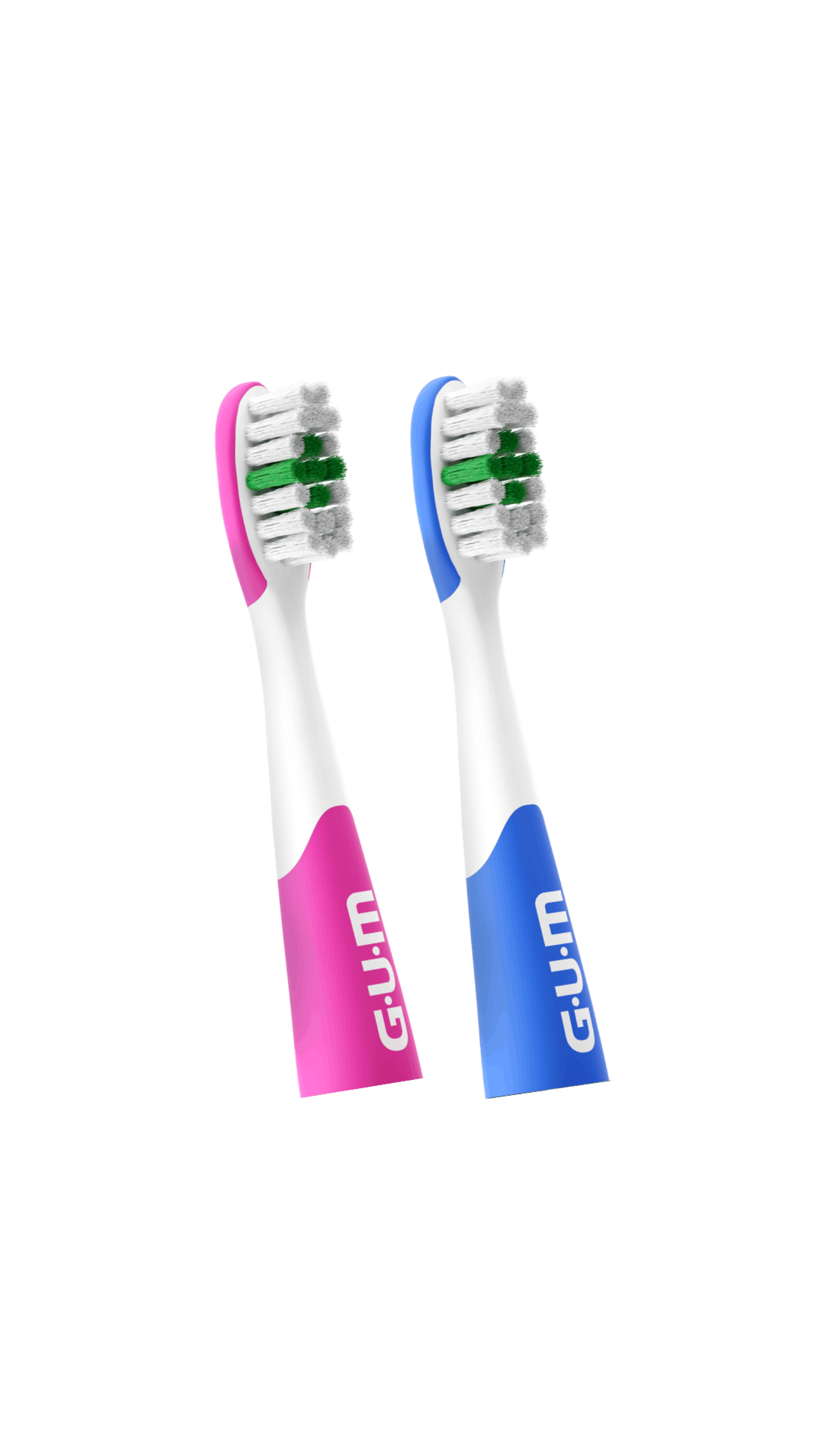 KIDS 3+
The extra soft brush heads are specially designed to be gentle on the gums of children aged 3 years and older, making them perfect for beginners.
Extra small brush head
Extra soft bristles
Increased front bristles for cleaning hard-to-reach areas
Toothpaste indicator for the right amount of toothpaste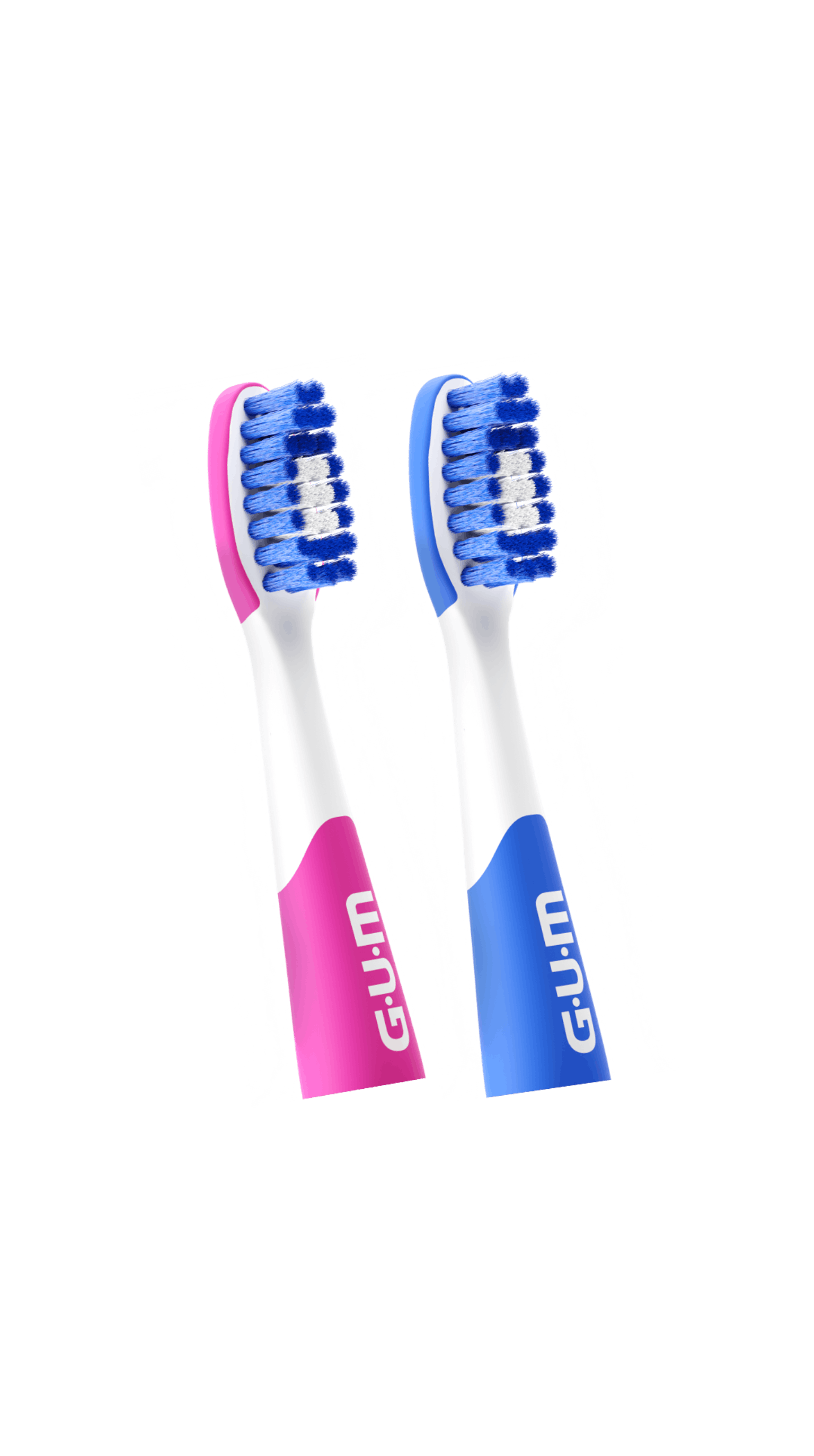 JUNIOR 6+
The soft bristles ensure an effective yet gentle cleaning of children's teeth, specifically designed for children aged 6 years and older.
Small brush head
Extra soft bristles
Increased front bristles for cleaning hard-to-reach areas
Here's how the GUM Playbrush App works
Learn how to brush properly, track your progress while brushing, play games, and much more!
Interactive brushing coach
With the 3D denture visualization, children learn the COI method recommended by dentists in a playful way. Insufficiently cleaned areas are displayed and the need for improvement is illustrated.
13+ exciting toothbrushing games
Defeat monsters, paint pictures, and embark on many more adventures in the Playbrush Kids App. With 13 games featuring various levels and a multiplayer option in the full subscription version, there are plenty of exciting experiences waiting for you. To get started without a subscription, you can enjoy 4 free games.
Cleaning with a sense of achievement
Trophies & rewards ensure consistent cleaning & long-lasting motivation.
Detailed cleaning statistics & email report
Brushing statistics provide information on brushing time, regularity, and accuracy. Progress without app use is stored offline on the brush for 6 months & can be synchronised later with the cleaning evaluations in the Kids App.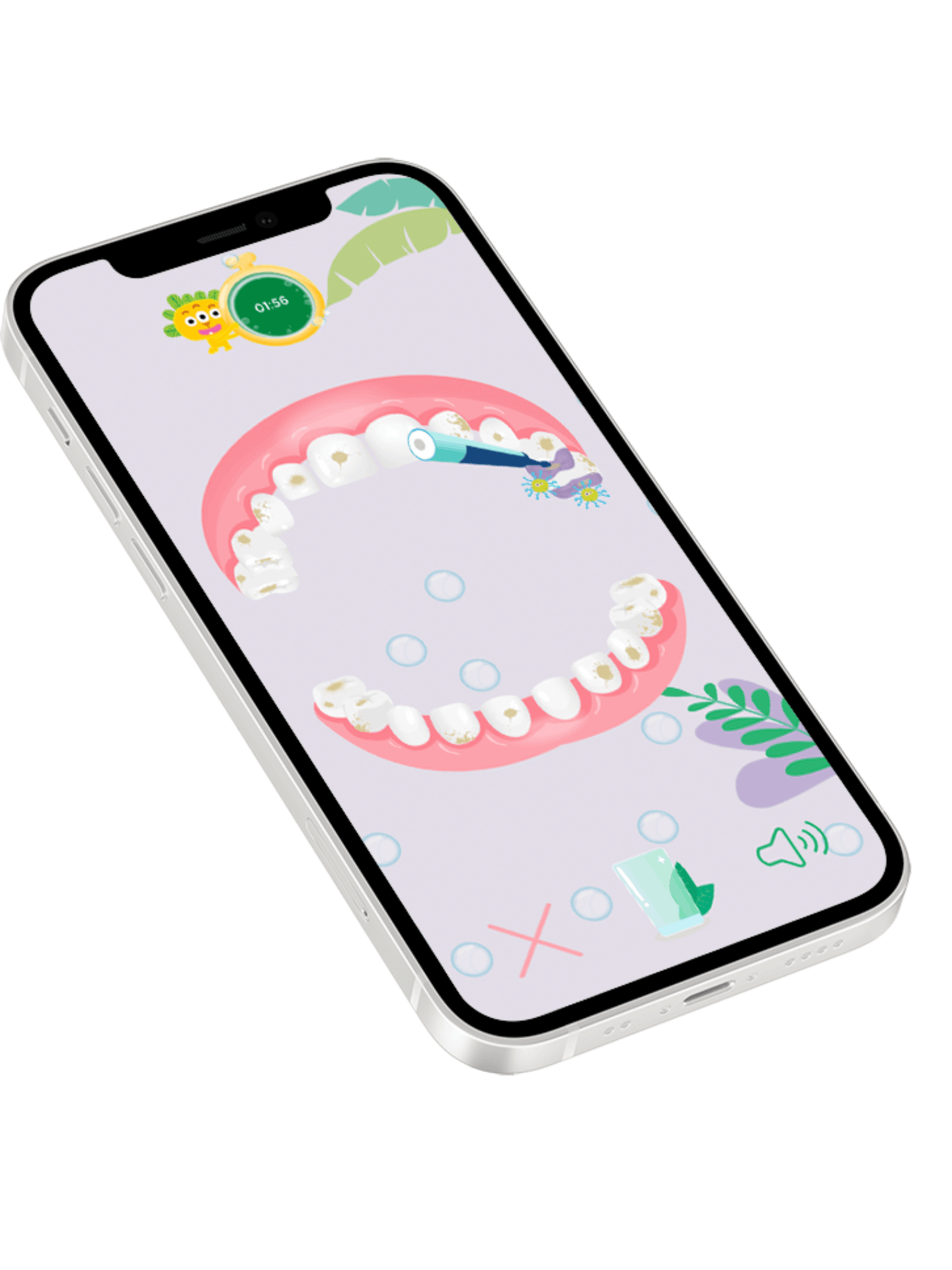 Do you want to know more about our app?
Learn more
From what age is the GUM Playbrush KIDS 3+ recommended?
We recommend the GUM Playbrush KIDS 3+ for children aged 3 to 6 years, as the size of the brush head is optimized for this age group. For children aged 6 and above, we recommend the GUM Playbrush Junior 6+.
Which devices are compatible with GUM Playbrush?
The GUM Playbrush app and games work on iOS*, Android**, and Amazon devices and can be downloaded from the Apple App Store, Google Play Store, or Amazon. It is possible to use the app on different devices (parents, grandparents, and babysitters).
*Minimum requirement: 5S/SE, iPad mini 2, iPad 5, and iOS 10 or above. **Minimum requirement: Android 4.4 KitKat and BLE (Bluetooth Low Energy) capability.
What does 'free trial' mean?
We understand that you want to try out new products before committing to additional services and subscription models. That's why we give your children the opportunity to try out more than 9 premium games for free for one month, in addition to the brushing coach and 4 free toothbrushing games. Only after the trial month ends will the use of premium games become chargeable.
What is the difference between the KIDS 3+ and JUNIOR 6+ models?
The two models only differ in the brush heads. They are the same sonic toothbrushes with up to 17,000 movements per minute. The toothbrush has 2 cleaning modes and measures pressure, position, duration, and regularity of brushing. After a full charge, the battery lasts for 8 weeks. It is available in blue and pink. The brush heads of the GUM Playbrush KIDS 3+ were specifically designed for children under 6 years old, have a toothpaste indicator, and are extra small. The brush head of the GUM Playbrush JUNIOR 6+ is the successor to the Playbrush Smart Sonic attachments and is perfectly sized for children aged 6 and above.
Both brush head models have extra soft bristles, raised front bristles, and are compatible with the GUM Playbrush KIDS 3+ and the GUM Playbrush JUNIOR 6+.
What happens if we are not convinced by the subscription?
Then you can easily cancel the additional services within the first 30 days. No charges apply. Your children will still have access to the toothbrushing coach and 4 free games in the app afterward. Replacement brush heads can be purchased separately on our webshop.
Where can I purchase the replacement brush heads?
You can easily order the replacement brush heads for your GUM Playbrush toothbrush through the webshop. You have the option to purchase them as part of a subscription, where you will receive a yearly supply of 6 replacement brush heads delivered directly to your home (free shipping). Alternatively, you can purchase a single pack of replacement brush heads with additional shipping cost.
Can I purchase the toothbrush without a subscription?
The motivational set and the all-round carefree set each consist of the toothbrush and one of the two subscription models. You can try out the subscription features for free for one month. If you are not convinced during that time, you can cancel the subscription at any time.
What is the difference between the two sets?
Both sets include the upgrade from 4 to 13+ toothbrushing games in the app and a toothbrush. The larger of the two packages also includes a yearly supply of replacement brush heads (6 pieces). You can try the subscription for free for 30 days and cancel anytime if you're not convinced.
Build good habits
from the start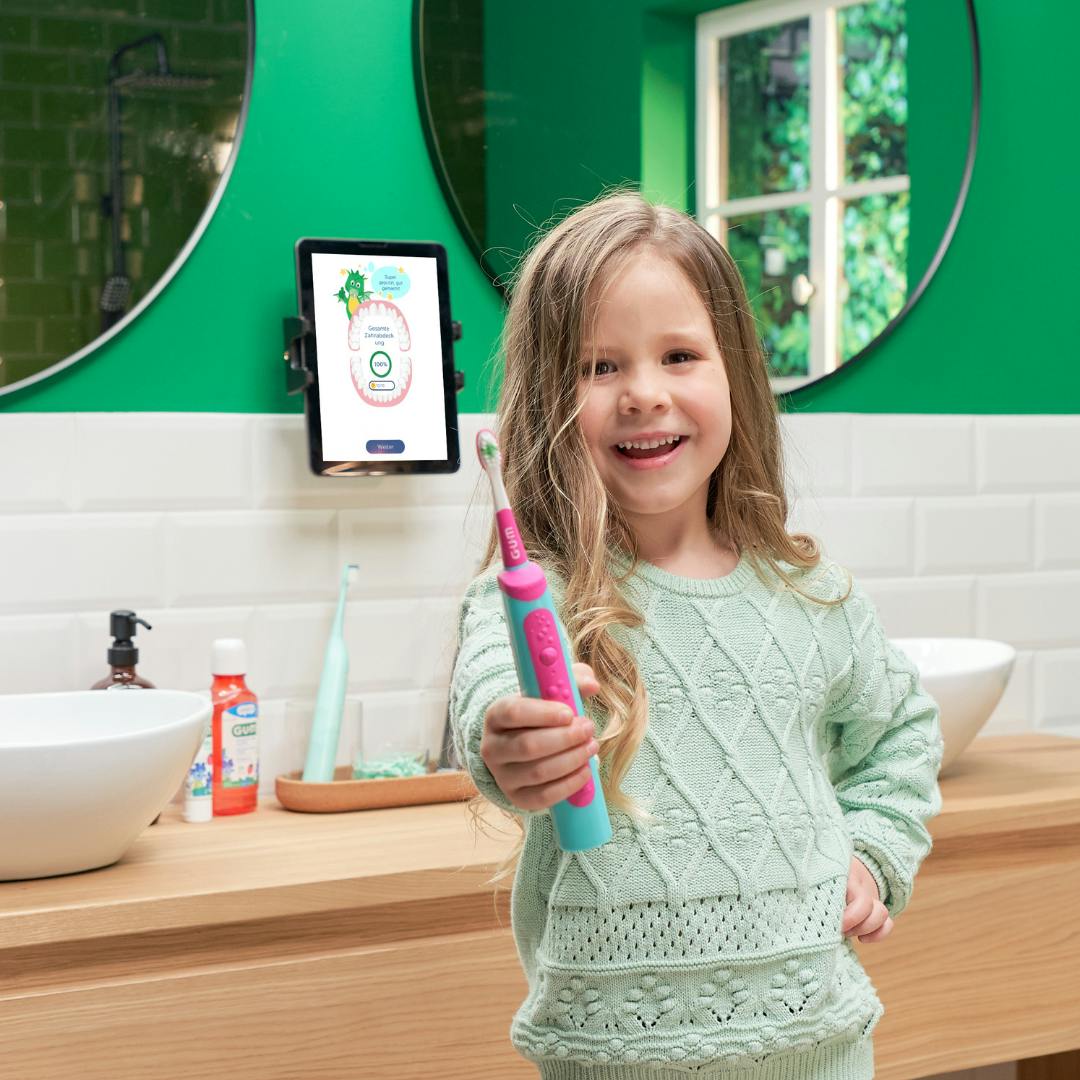 Making oral hygiene easy
Our smart toothbrushes are specially designed for children and connect via Bluetooth to the GUM Playbrush app to transmit brushing movements in real-time to the brushing coach. With exciting games and fantastic trophies, children willingly and enthusiastically engage in brushing their teeth.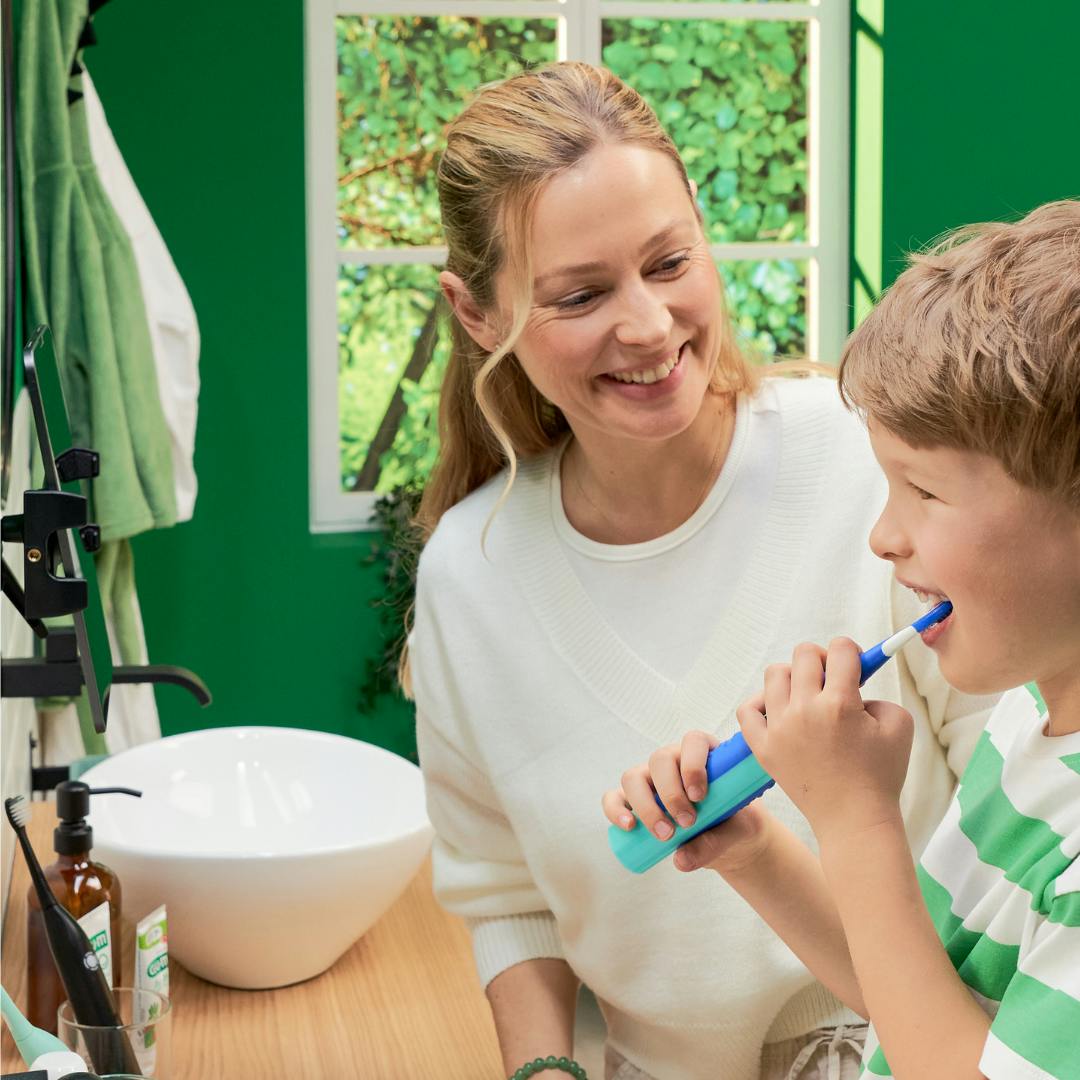 Everything you need
So that you can support your children, the GUM Playbrush app provides you with detailed statistics. This way, you have a complete overview of your loved ones' progress. Thanks to regular fresh brushes delivered by mail, you don't have to worry about anything anymore!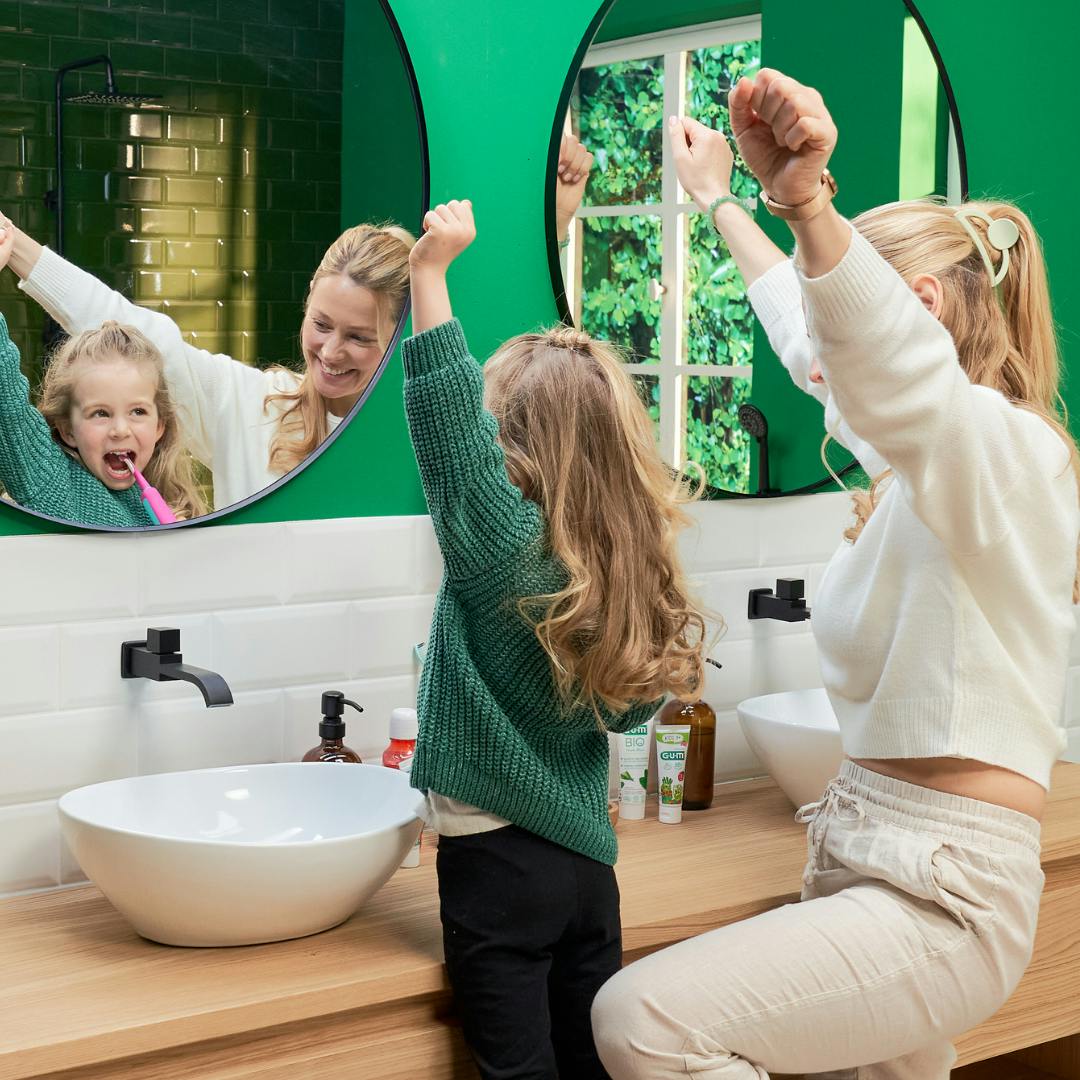 More family time
With GUM Playbrush, brushing teeth becomes an adventure for your children. Less bathroom drama and more efficient brushing mean more quality time with your loved ones.
Discover all
our products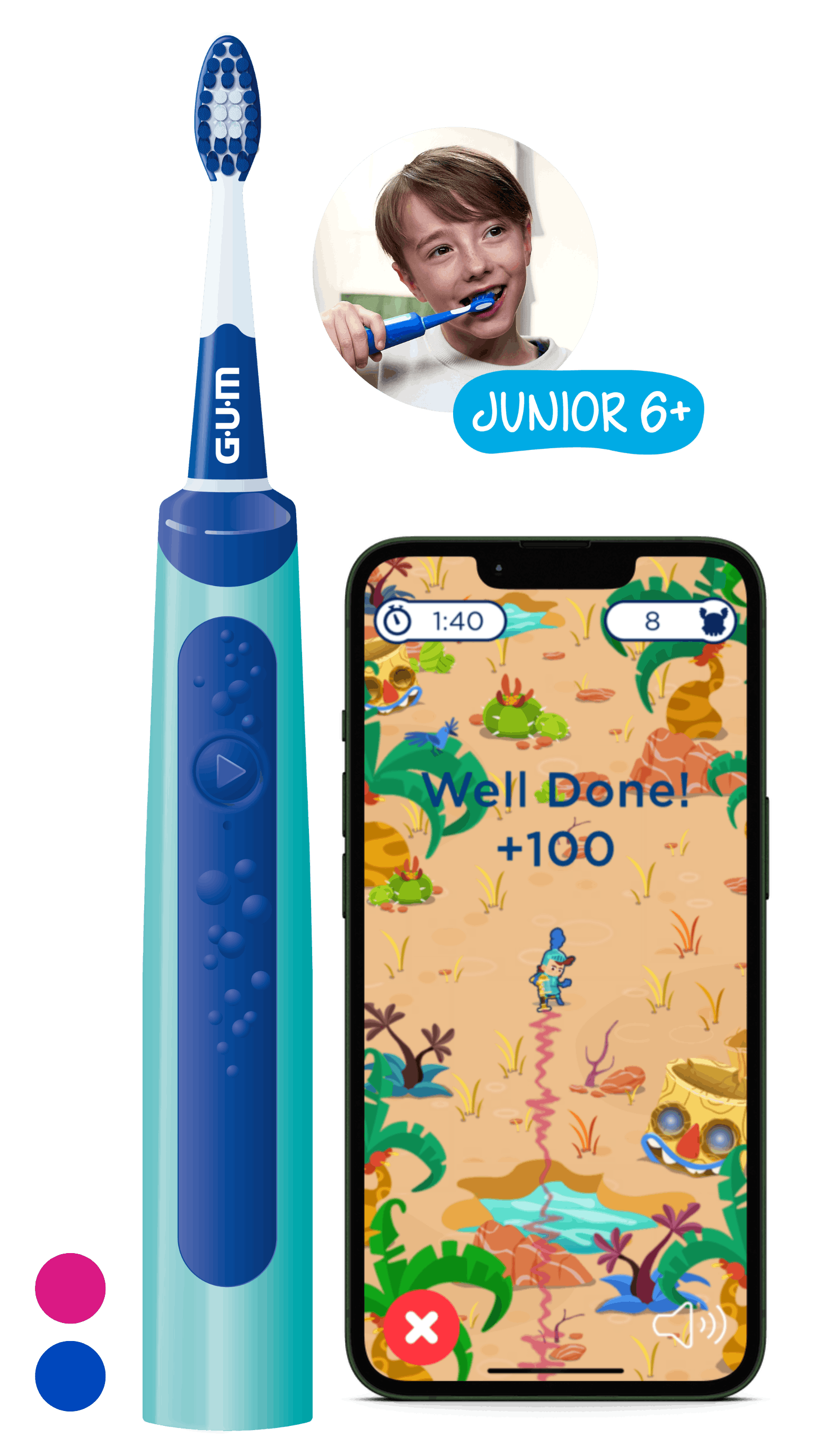 GUM Playbrush JUNIOR 6+
Smart sonic toothbrush with game app for children aged 6 and over
From:
€ 29,99
View product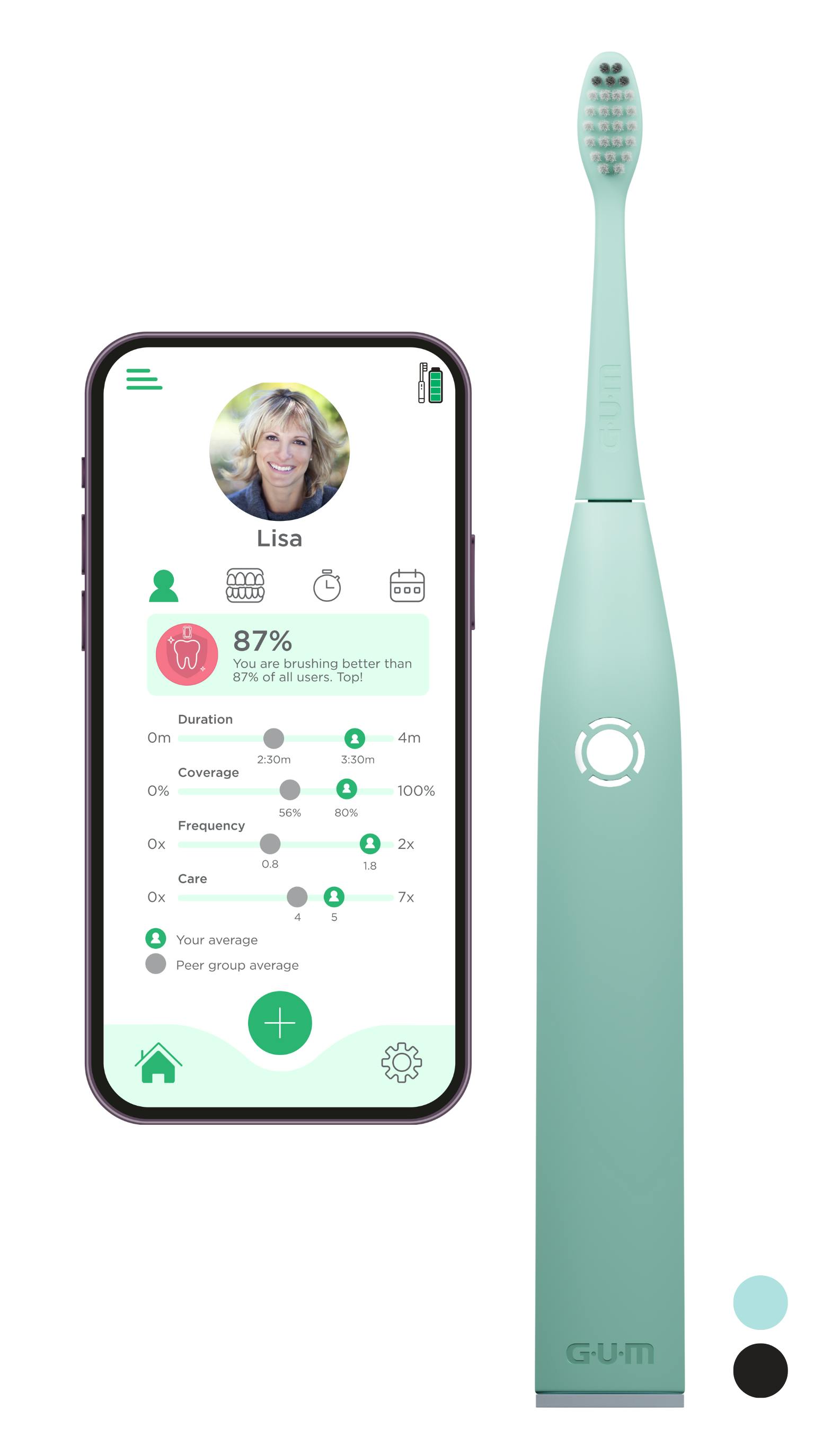 GUM Smart One
Smart sonic toothbrush for adults with interactive app and comprehensive services
From:
€ 69,99
Preorder now