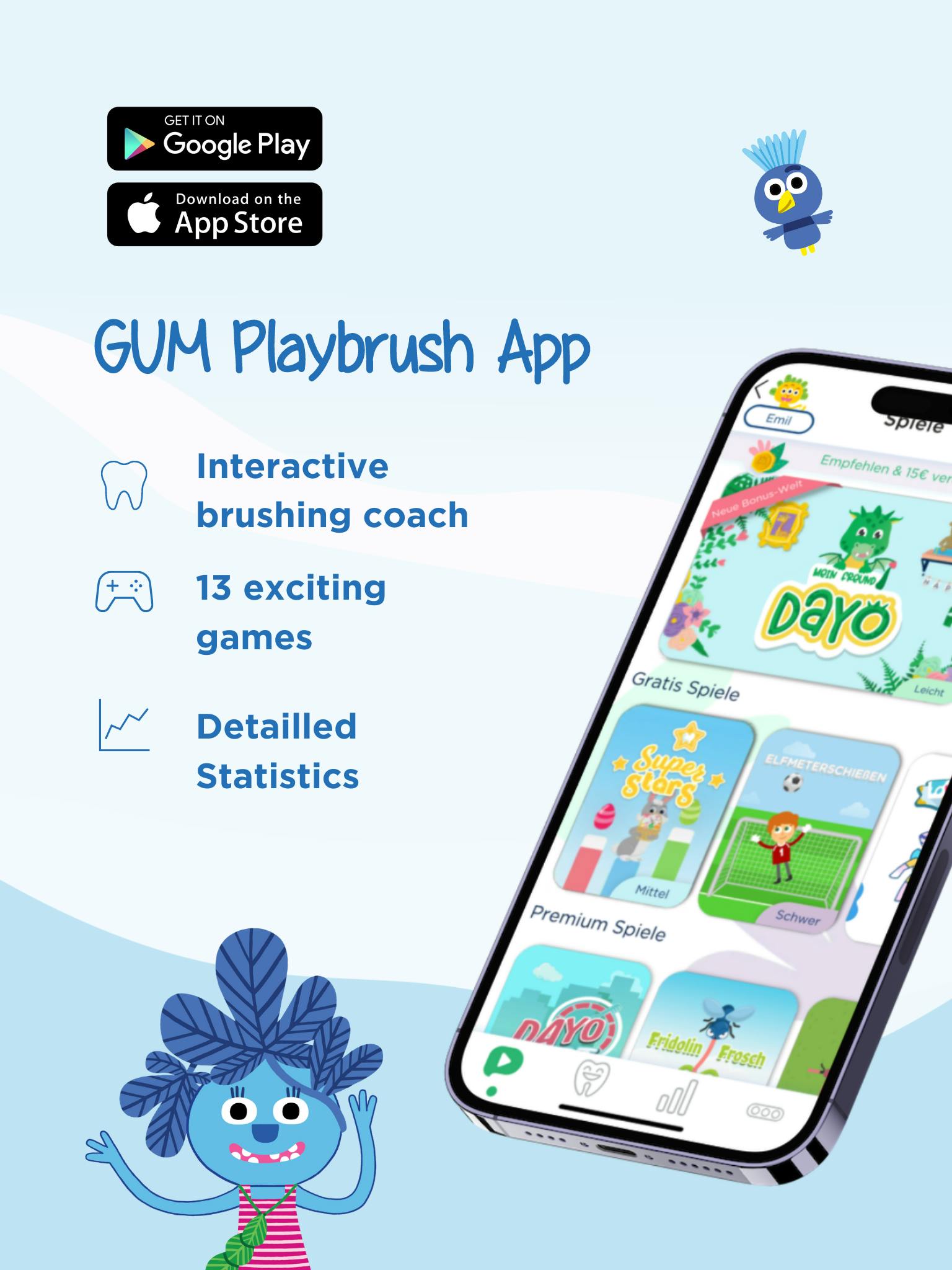 Discover our convenient additional services for the GUM Playbrush JUNIOR 6+.
Compare
All-round carefree set

Brushing coach

Toothbrushing games

13 games incl. 2x multiplayer

Evaluations

Toothbrushing statistics & email report

Toothbrushing statistics & email report

Brush heads

Replacement brush heads delivered automatically, 6 brush heads per year.
Unit price £2.50 | Save £4.99

Replacement brush heads available separately, 2 brush heads as a one-time purchase.
Unit price £7.49 + shipping costs
Try for free & pay later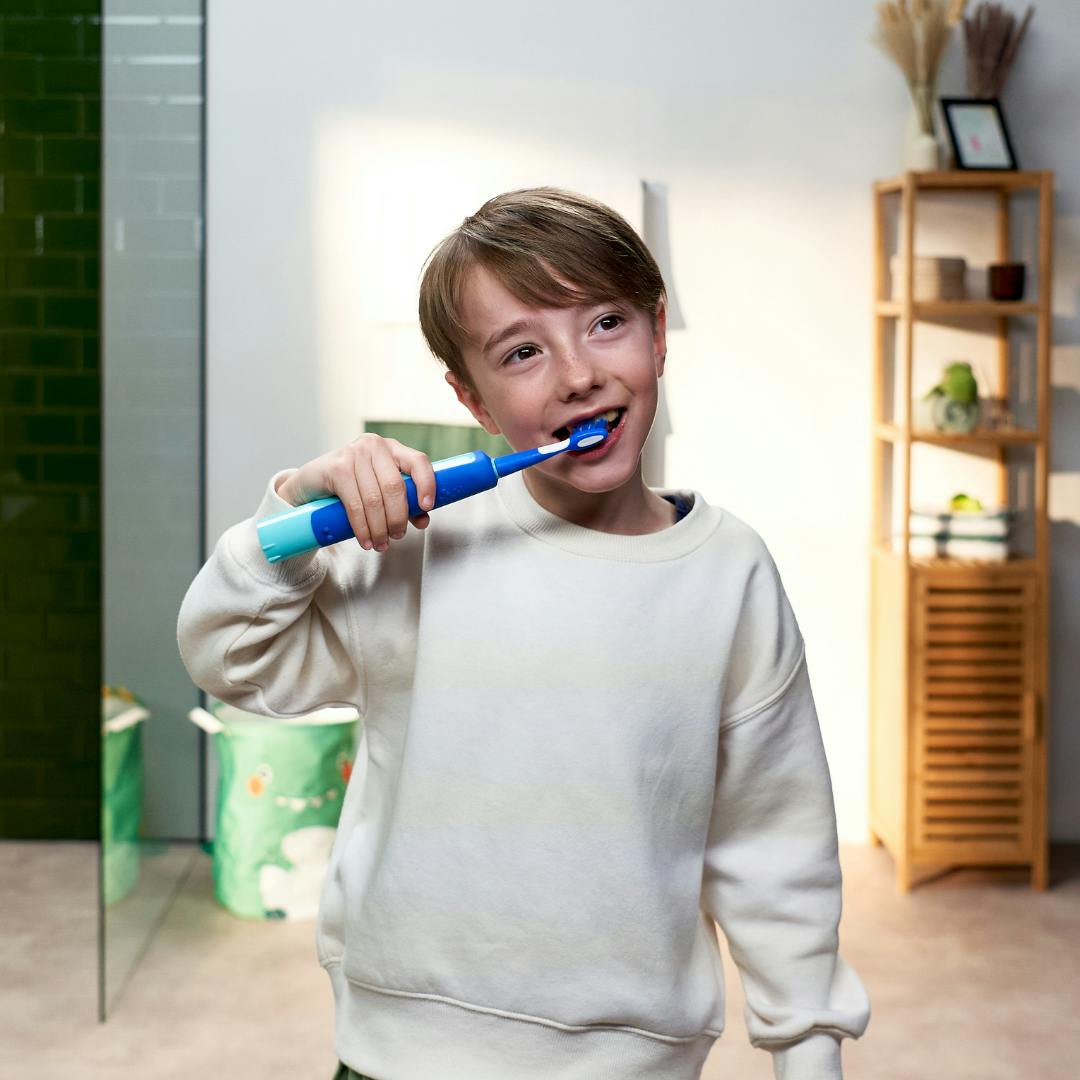 30 days of testing
Order the all-round carefree upgrade and try all games and toothbrushing evaluations for free for 30 days.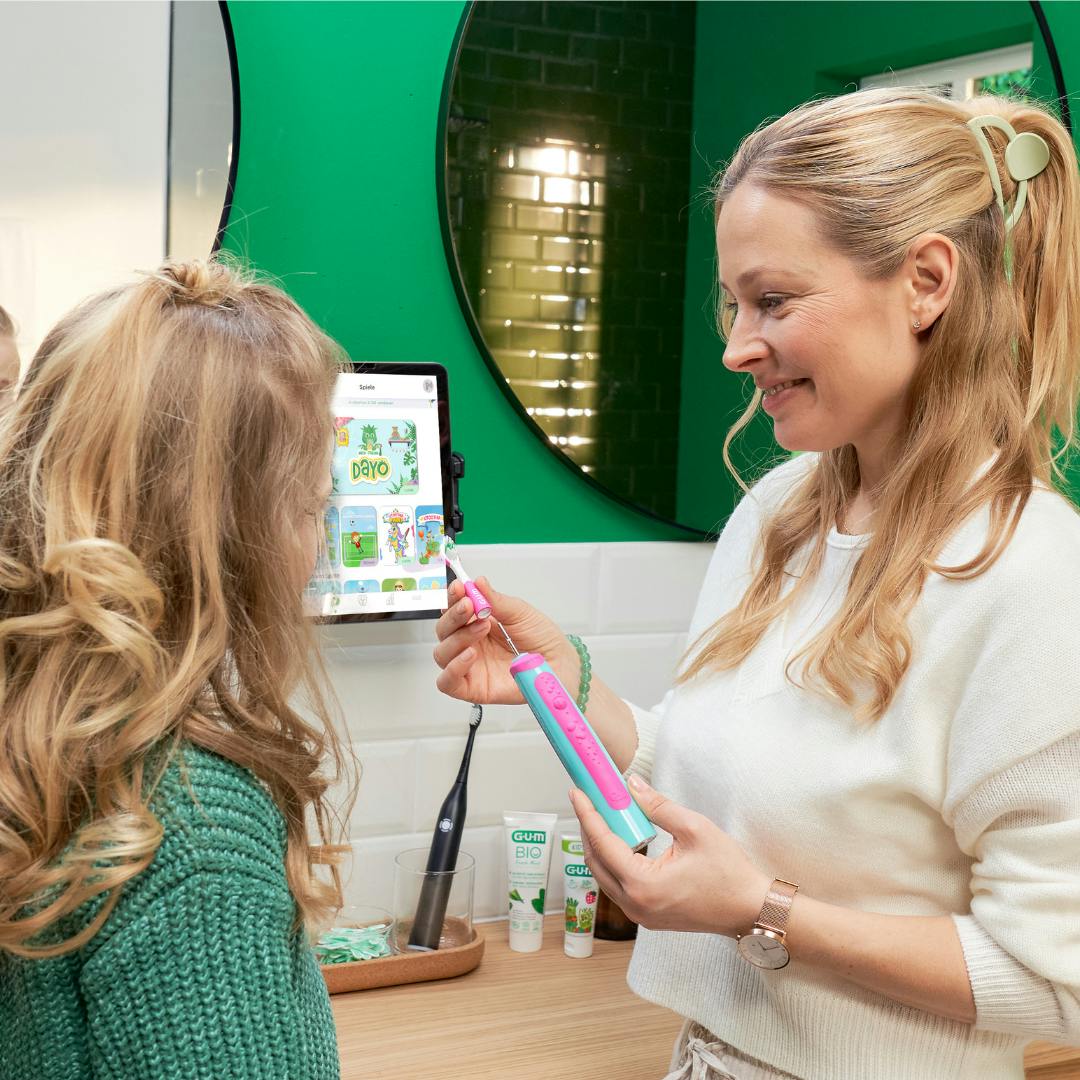 Cancel anytime
Enjoy the new features? Your payment method will be charged after 30 days. If you're not thrilled, you have the option to cancel the subscription at any time.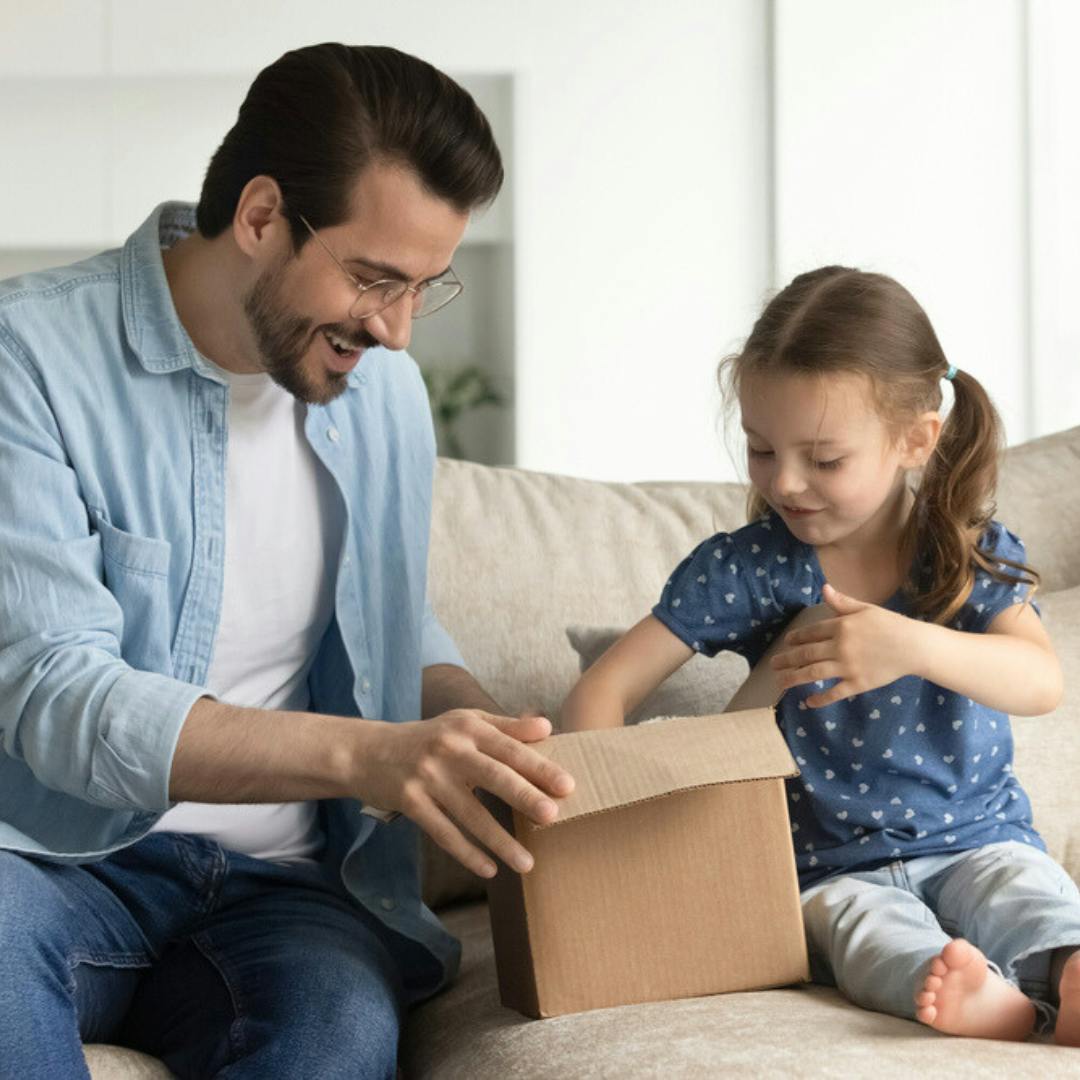 Enjoy the benefits
Once the upgrade has become chargeable, we will immediately send out the replenishment of replacement brush heads. No shipping costs.
Even more features
in the premium app
Additional games, detailed statistics, customizable brushing settings, and many more premium features await you in the extended app access of the GUM Playbrush App!
More motivation with extra games
Thanks to the 9 additional premium games, toothbrushing will never be boring. Including 2 multiplayer options, so your kids can compete against each other while brushing.
Customizable timer
Your kids don't want to stop brushing? Perfect, because with the subscription, you can create your personalized brushing experience and customize your brushing settings. Simply set your preferred brushing duration in the app and get started.
My buddy Dayo
In our fantastic bonus world, "My buddy Dayo," toothbrushing dragon Dayo becomes a virtual pet, waiting to be nurtured and cared for. Only available for subscribers.
Analysis of brushing progress
With our subscription, parents receive an even more detailed overview of brushing time, frequency, accuracy, as well as a weekly summary via email. This allows for precise tracking of brushing progress and optimizing the routine in the long run.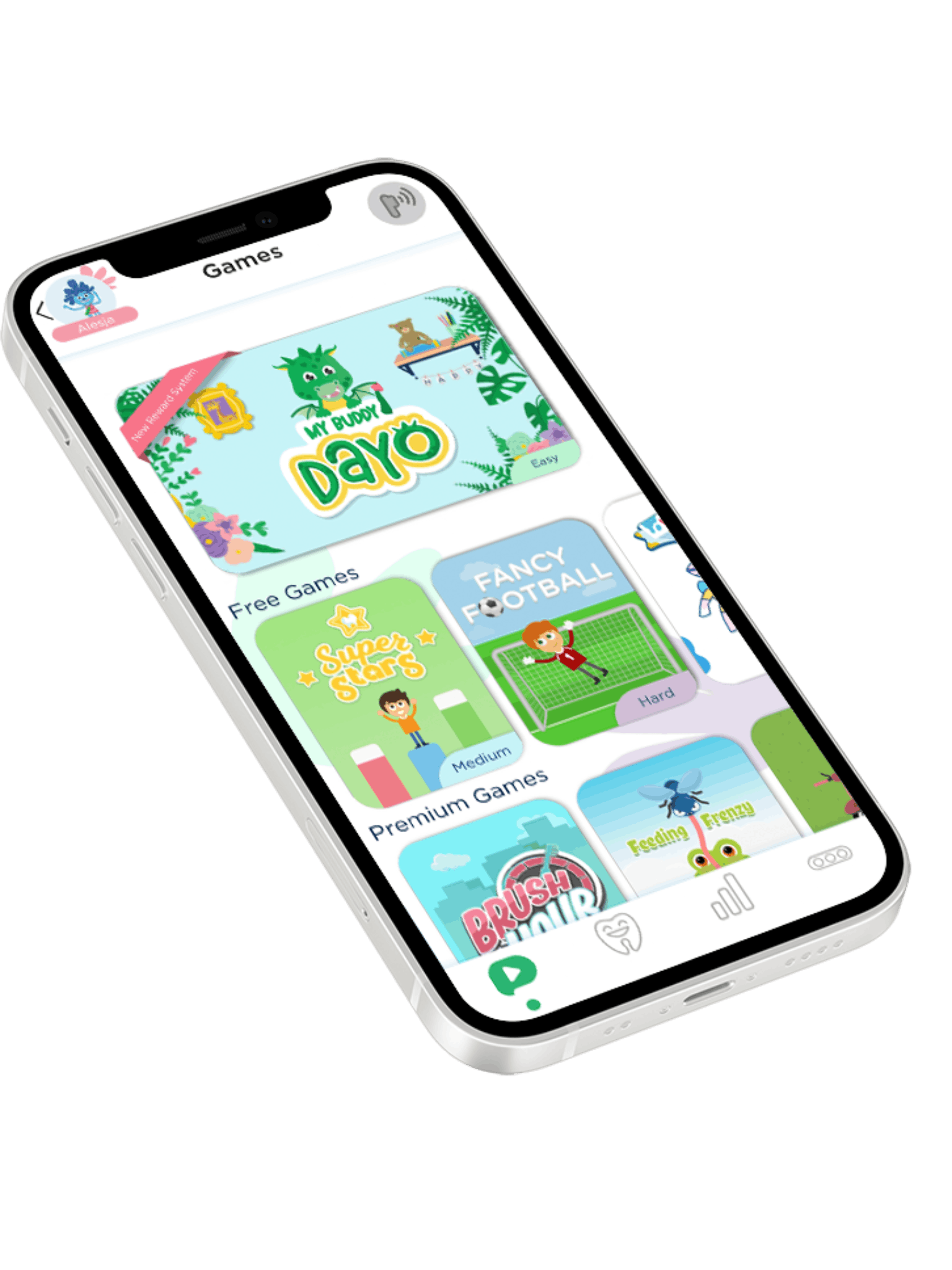 Do you want to know more about our app?
Learn more
Our brush heads
Back to top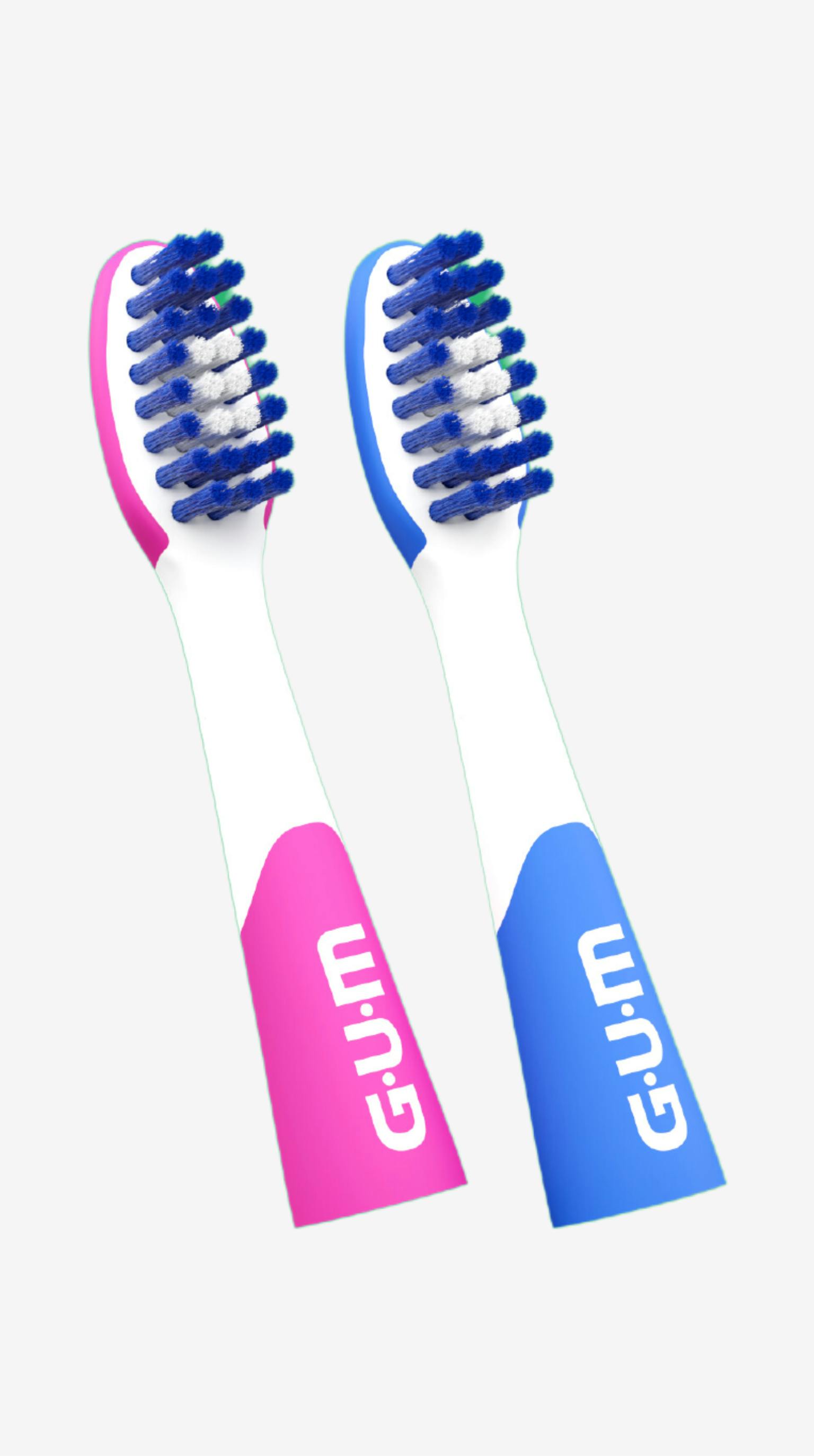 JUNIOR 6+
The soft bristles ensure an effective yet gentle cleaning of children's teeth, specifically designed for children aged 6 years and older.
Small brush head
Extra soft bristles
Increased front bristles for cleaning hard-to-reach areas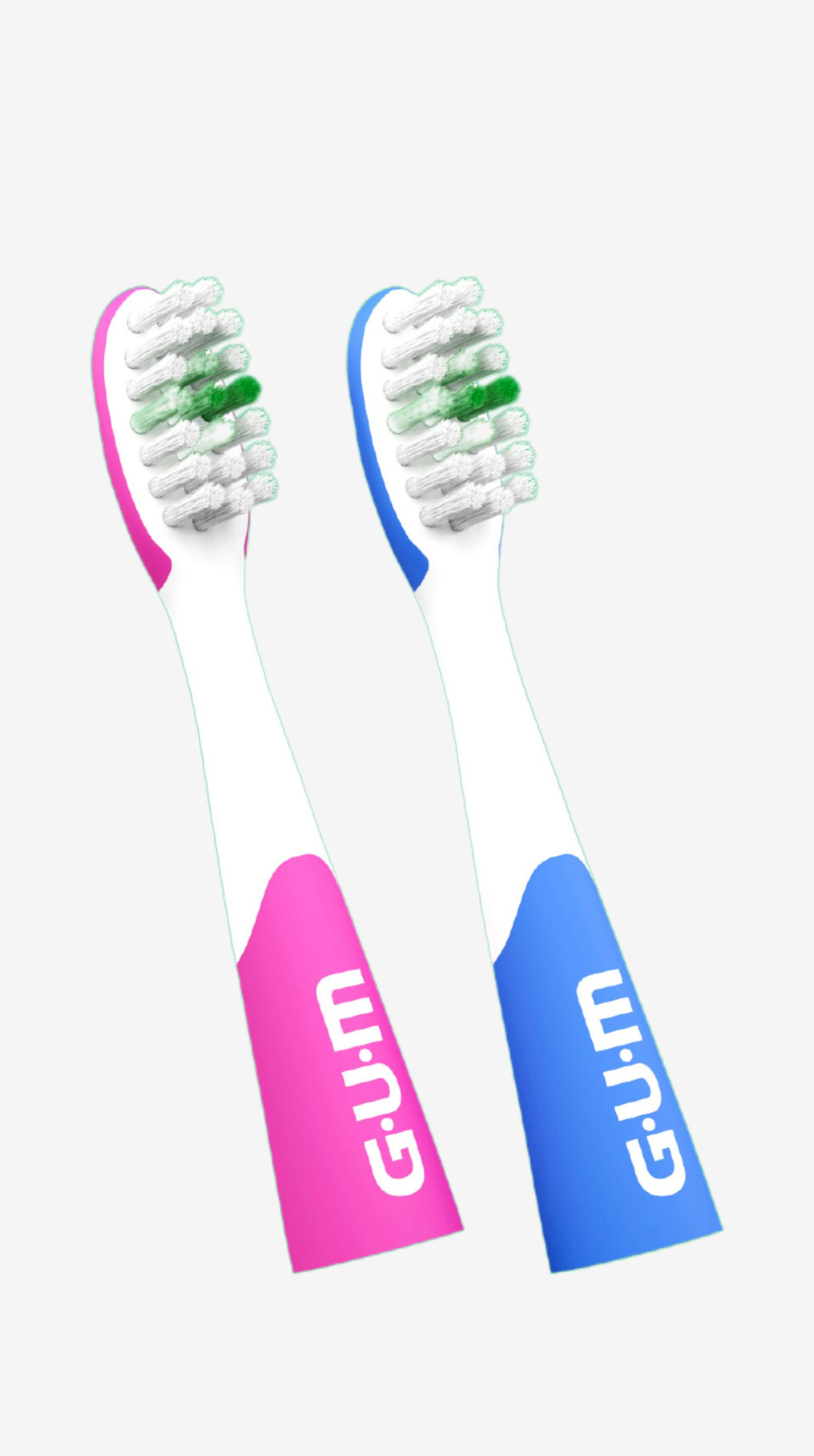 KIDS 3+
The extra soft brush heads are specially designed to be gentle on the gums of children aged 3 years and older, making them perfect for beginners.Extra kleiner Bürstenkopf
Extra small brush head
Extra soft bristles
Increased front bristles for cleaning hard-to-reach areas
Toothpaste indicator for the right amount of toothpaste
What are the benefits of the GUM Playbrush subscription, and what additional features are available?
As a subscription customer, you have clear advantages:
Your children have unlimited access to all games and features in the app.
Parental Statistics
Cross-game long-term analysis
Detailed insights into accuracy, frequency, and time
Weekly email summaries.
As a subscription customer, you can use customizable features (brushing time and offline toothbrushing).
You receive regular and automatic deliveries of new dental items (brush heads) directly to your home, and at a lower price per piece.
Is the GUM Playbrush App only usable with a subscription? Do I need a subscription?
The GUM Playbrush App is fully functional even without a subscription. Without a subscription, you have access to 4 games and the toothbrushing coach.
However, all other features are reserved for subscription customers: access to 9 additional games, access to brushing analysis in the GUM Playbrush App, and the convenience of having replacement brush heads delivered to your home.
Do I need to purchase a subscription for each child?
No, within the GUM Playbrush App, multiple profiles can be created, allowing each child to have their own profile, and all the games included in the subscription will be available to them.
However, only one annual supply of 6 replacement brush heads is delivered, which is sufficient for the recommended needs of a single child as advised by dentists.
What does 'free trial' mean?
We understand that people want to try out new products before committing to additional services. That's why we offer your children the opportunity to try out 9+ premium games for free for one month, in addition to the toothbrushing coach and 4 free toothbrushing games. Only after the trial month expires will the use of premium games become chargeable.
Your annual supply of brush heads will be shipped after the payment is processed (after the free trial period ends).
What happens if I'm not satisfied? Can I easily cancel the subscription? How?
You can easily cancel the additional services within the first 30 days*. It's free of charge. After cancellation, your children will still have access to the toothbrushing coach and 4 free games in the app. Replacement brush heads can be purchased separately in our webshop.
Please contact [email protected] to cancel.
*However, any fees already paid for a subscription you have signed up for will not be refunded upon cancellation. For more detailed information about cancellations and exceptions, please refer to sections 6.5 and 8 of our Terms and Conditions.
What happens if we are thrilled?
Then you not only belong to the majority of our customers who are thrilled but also don't have to worry about anything else. Your provided payment method will be automatically charged with the service fee after the free trial period ends, ensuring that you can continue to enjoy all app features comprehensively. Additionally, if chosen, your children will receive a year's supply of replacement brush heads by mail within a few days. Cancellation of the automatic annual payment is possible at any time!
What toothbrushing games are unlocked with the subscription in the app, and how many of them?
With the subscription, 9 additional premium games are unlocked for long-lasting motivation. Among them are 2 multiplayer games that allow for brushing together and access to our reward system "My buddy Dayo".
How often do I pay for the subscription? Is it an automatic deduction?
You pay once per year in advance. However, this payment is only required after the 30-day free trial period. You can cancel at any time.
There are no shipping costs involved.
The amount will be automatically deducted from the payment method you have provided unless you revoke the authorization. You will receive a reminder email 7 days before the deduction, giving you the opportunity to make any changes to your subscription before the payment is processed.
When I subscribe, how long does it take to unlock the benefits in the app or receive the delivery of the brush heads?
Once you purchase the subscription in the webshop, all features in the app will be unlocked immediately.
Please note: Make sure to purchase the subscription with the same email address that you are registered with in your children's app. You can view this email address in the settings > account section of the GUM Playbrush App.
The brush heads will be automatically shipped to you after the free trial phase of the games.
What is the difference between a set and an upgrade?
A set consists of a GUM Playbrush and a convenient subscription service, while an upgrade does not include a toothbrush. An upgrade is relevant when you already have a toothbrush from Playbrush or GUM Playbrush at home.
Does this upgrade offer include a smart children's toothbrush?
No, if you would like to purchase a smart toothbrush for your children, please click here.
All-round carefree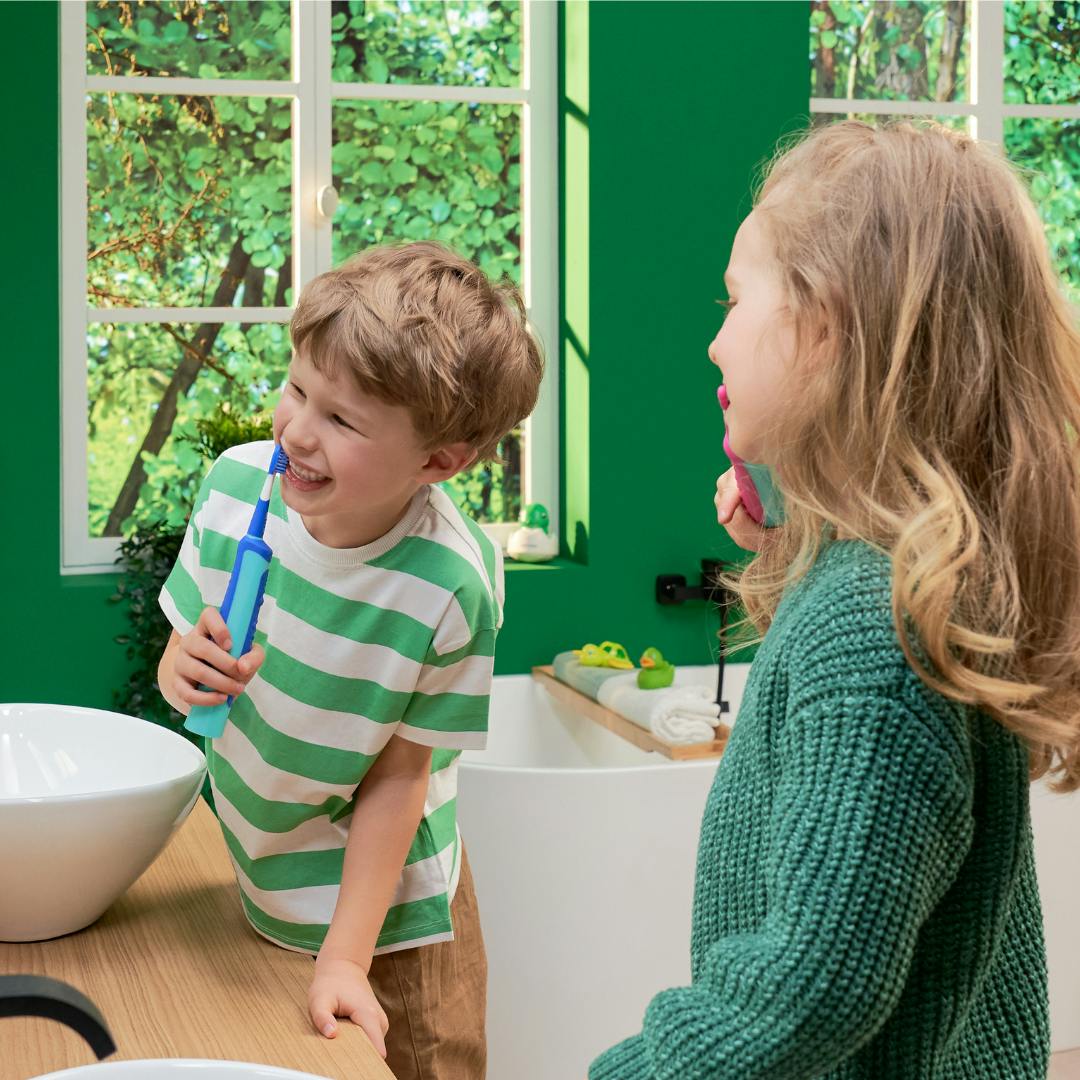 Endless adventures
The GUM Playbrush App offers a vast selection of interactive toothbrushing games. In addition to the 4 free adventures, the upgrade provides access to 9 more exciting games and to our reward system "My buddy Dayo" for long-lasting motivation. Two of these games even offer multiplayer functionality, allowing you to play together with a partner.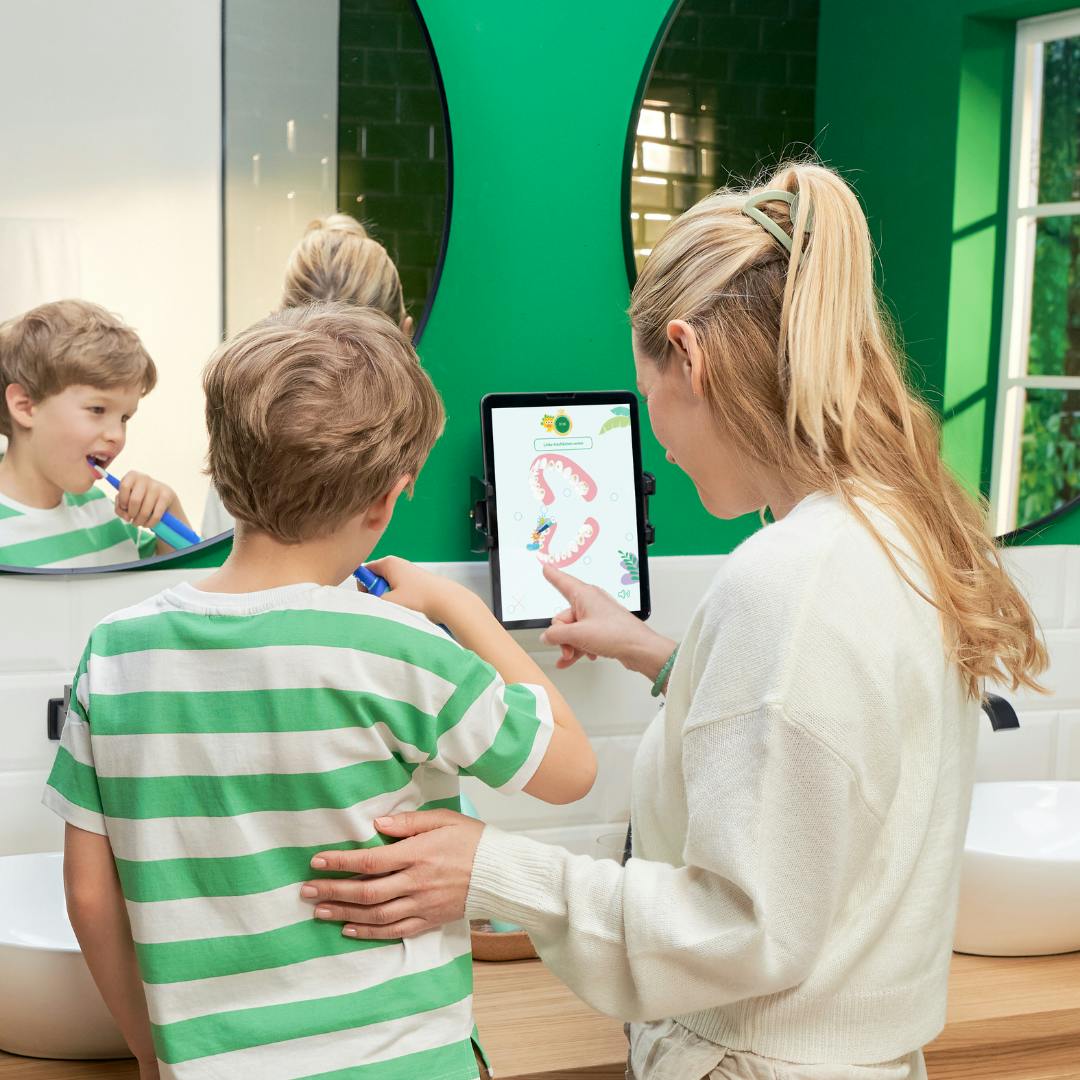 Full control
With the detailed brushing statistics and the weekly email report, you have a smart overview of the accuracy, duration, and frequency of your kids' brushing behavior. Any progress made without the app is stored on the brush for up to 6 months and can be synchronized later with the brushing analysis in the GUM Playbrush App.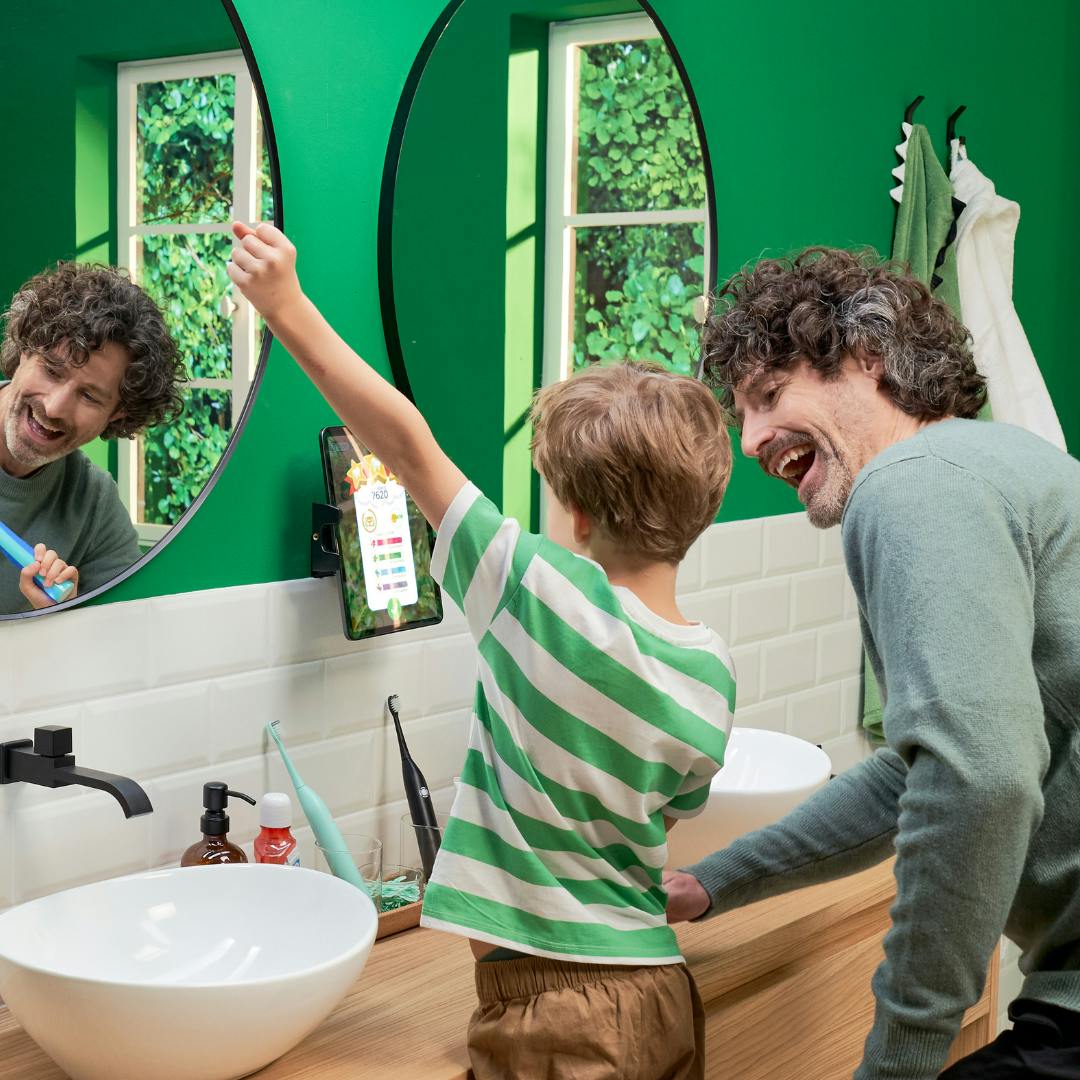 More family time
Dinner, school performances, children's gymnastics - parents already have a lot of important things on their minds in their everyday lives. With our convenient subscription, replacement brush heads are regularly and automatically sent to your home, giving you more time in your daily routine and ensuring that your kids consistently change their brush heads without running out of supply. Additionally, you not only save time but also £4.99 per brush head. It's a win-win!
Discover all
our products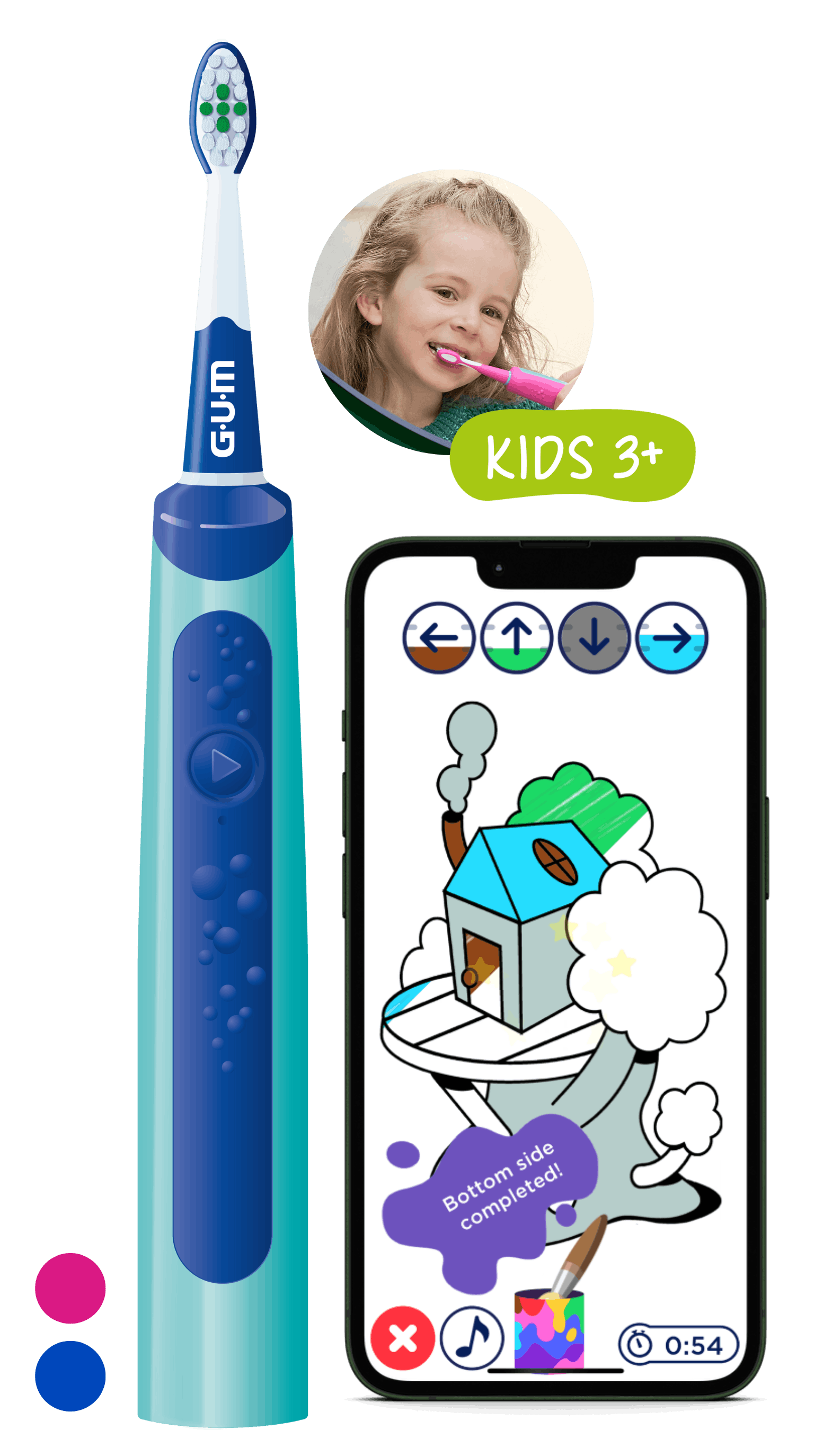 GUM Playbrush KIDS 3+
Smart sonic toothbrush with game app for children aged 3 and over
From:
€ 29,99
View product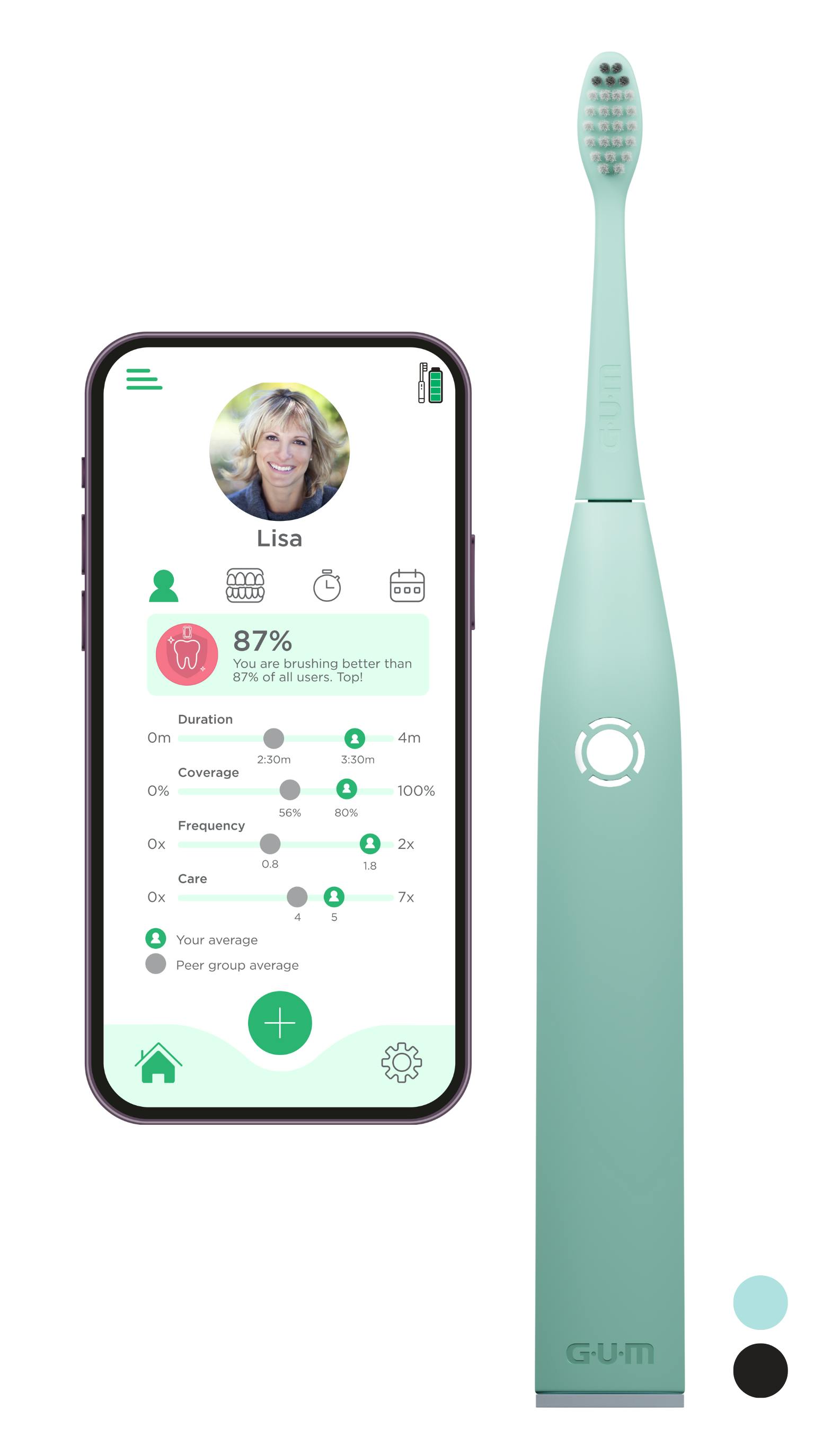 GUM Smart One
Smart sonic toothbrush for adults with interactive app and comprehensive services
From:
€ 69,99
Preorder now